Why Humza Yousaf's chances of a successful career as First Minister are 'not great' - Euan McColm
The pathos was almost unbearable. As swarms of police officers searched both the home of his predecessor and the headquarters of his party, First Minister Humza Yousaf said the situation was "not great".
As he spoke, former SNP chief executive Peter Murrell – husband of Nicola Sturgeon – was in police custody, arrested as part of an investigation into the finances of Scotland's governing party. "Not great" doesn't even begin to describe the situation. "Catastrophic" would be more accurate.
When Sturgeon announced, in February, that she was to resign as leader of the SNP and, therefore, First Minister, the widely expressed view was her departure was a disaster for the independence movement. Now it looks like the only thing more damaging than her leaving would have been her staying.
Twelve hours after his arrest on Wednesday morning, Murrell was released from custody without charge. The next day, police officers dismantled the tents erected both in front of and behind the house he shares with Sturgeon. The investigation into how more than £600,000 raised to help fund a second independence referendum campaign was spent continues.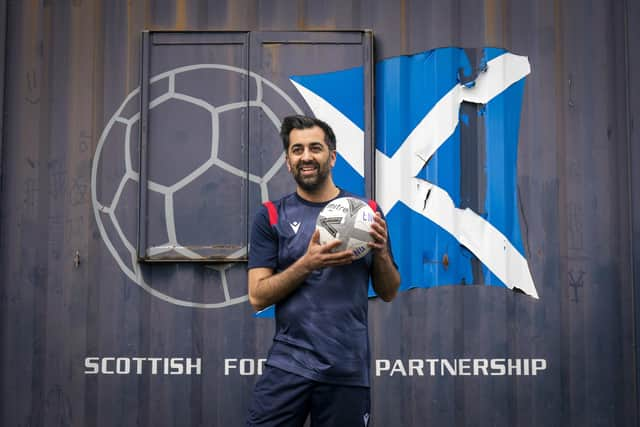 So, too, does pressure on Yousaf.
Less than a fortnight after he took over from Sturgeon, there are questions from within SNP ranks about the legitimacy of his leadership.
During the campaign to succeed Sturgeon, Yousaf was happy to be considered the continuity candidate. If members wished more of the success they'd enjoyed under the departing leader, then they should get behind him.
In stark contrast, Yousaf's fellow candidates – Kate Forbes and Ash Regan – were clear that more of the same was in the interests neither of their party nor the wider pro-independence movement.
Clearly out-of-her-depth throughout the contest, Regan was never a serious challenger for the top job. Forbes, on the other hand, came very close to taking the prize. When Yousaf failed to win a majority of first preference votes in the leadership contest and third place Regan's second preference votes were distributed, he defeated Forbes by a margin of just 52-48.
Many had written off Forbes's chances of victory over her socially conservative views – she said she would not, had she been an elected member at the time legislation was passing through Parliament, have voted in favour of allowing gay people to marry – yet her criticism of the SNP's record struck a chord with almost half of members.
Yousaf's slender victory meant he started his leadership of the SNP in a relatively weak position. Now, some are asking whether – had the police raids taken place a month earlier – the continuity candidate would have won, at all. There has been some talk over whether the contest should be re-run.
Speaking to journalists a day after the police raids, Yousaf seemed eager to ditch that continuity candidate mantle. Anyone who believed – thanks to his endless words of praise for Sturgeon and Murrell – that he was somehow close to them in any way was sorely mistaken. He hadn't spoken to either of them since police made their move.
Just a few weeks ago, Yousaf declared Murrell a "proven election winner" who had done "more for our party and our movement than just about anybody else". At one stage, he even seemed to be considering keeping Murrell, who quit as chief exec three weeks ago after it emerged the party had lied to the press about membership numbers, on in his role, saying "anyone that doesn't want a proven winner on their side, particularly in politics, I think that would be a little bit daft".
As this latest crisis engulfed his party, the First Minister told a new story, one where it is "very, very clear that the governance of the party was not as it should be". It was now time for a new era of transparency and the issue of the former first minister being married to the SNP's former chief executive was "just one example" of the mistakes that had been made.
In a brutal little dig, Yousaf added his wife would not be applying for the role of chief executive. The whole thing was very "oh, Peter Murrell? I thought you said…"
It begins to look like the real winner of the SNP leadership contest was Forbes. She ran an effective campaign and despite a lack of support among elected members, she came very close to victory. What's more, polling throughout the campaign repeatedly revealed her to be more popular than Yousaf with the wider voting public.
Having turned down a demotion from finance to rural affairs under the new First Minister, Forbes left the Scottish Government to sit on the back-benches. She may consider herself to have had a lucky escape.
During the leadership campaign, Forbes said that, should she fail to win, it would be "very, very unlikely" she'd make a future bid for the top job.
Well, people say a lot of things, don't they?
Not only do some in the SNP think Forbes would have won the contest had the police raids taken place earlier, they also think she might yet have her day. Yousaf is inextricably linked to the old regime. He was their favoured candidate and he played on that status throughout the campaign to replace Sturgeon. It is difficult to see how he moves on as the face of a new start for an SNP currently mired in scandal.
Forbes, on the other hand, made clear during her leadership campaign that she had no great regard for how the party had been run in recent years. She may find that some of those elected members who refused to back her are thinking again.
What are the chances, after events of the past week, of Yousaf having a long, successful career as First Minister?
To quote his own words: not great.
Comments
 0 comments
Want to join the conversation? Please or to comment on this article.