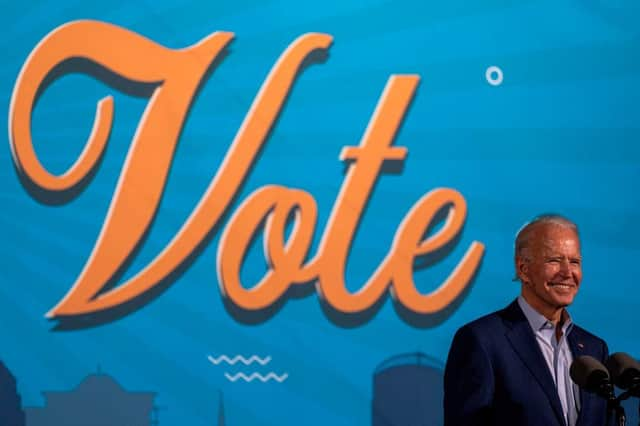 "You hold the key. If Florida goes blue, it's over," Joe Biden told a drive-in rally in Broward County, Florida on October 29.
The Democratic candidate's proclamation illustrated just how vital the state is to both the Democratic party and President Trump, who have been furiously campaigning in the state ahead of America's vote today.
Here's why the Sunshine State is so coveted by the competing parties.
Why is Florida so important?
For the last six US elections Florida has supported the overall winner of the US Election, twice determining the victor in the election.The state famously (or infamously if you talk to Democrats) handed George W. Bush victory over Al Gore in 2000 by 537 votes.
The combined margin of victory over the 24 year time span is also the smallest of any state.
Though all battleground states are fiercely fought over, Florida is particularly coveted due to its size, presenting victors with 29 crucial electoral votes.
This status as kingmaker sees campaigns channelling time and money into the area, and 2020 has been no different with both Biden and Trump spending a disproportionate amount of time in the state.
Trump's victory over Clinton in 2016 was large enough that he didn't need to claim victory in Florida, but his win provided the first indicator that the divisive Republican candidate would claim victory over a favoured Clinton.
Mr Trump's victory over Clinton was marginal, claiming 48.6% of the vote compared to Clinton's 47.4%.
What role will the state play in 2020?
As Biden indicated, Florida is a must-win state for incumbent president Donald Trump.
No Republican has won the US election without claiming the state in the last 100 years.
If Trump does win the key battleground state then pressure will be heaped on Biden to collect college vote seats in the other battleground states of Pennsylvania, Michigan and Wisconsin, each of which Mr Trump won in 2016.
A victory in Florida isn't always life and death for the Democrats though. Their margin of victories in the 2008 and 2012 were high enough that they could have lost the sunshine state and still emerged victorious.
The elderly vote could prove key to victory in the state and it has been suggested that Mr Trump has lost favour with a portion of this demographic due to his mishandling of the coronavirus pandemic.
Florida most recent polls
Polls currently suggest that the state is a toss-up with Mr Biden holding a 2.5 point lead according to poll analysts FiveThirtyEight.
According to an Ipsos poll Biden's lead is just 1 point in the Sunshine State, while a Quinnipac University poll suggests that Trump is three points adrift in the race.
A Yougov poll from October 24 suggests that Biden was leading the race 50-48.