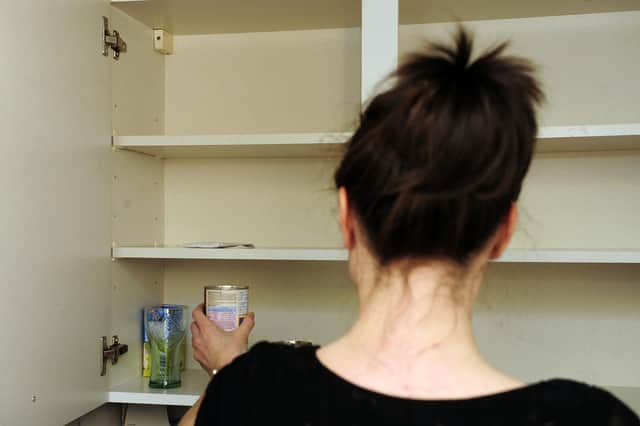 Labour's Jonathan Reynolds says a staggering 400,000 families in Scotland are set to lose £1,000 a year and 30,000 children could be pushed into poverty under planned cuts to Universal Credit. Picture: Michael Gillen
Yet too often it has felt like families are at the bottom of the list for those making the decisions. Whether on exams, free school meals, access to remote learning or childcare, both the Conservatives and the SNP have let Scotland's families down.
If Westminster and Holyrood don't act, the impact on Scotland's children could far outlast this pandemic.
Boris Johnson and Nicola Sturgeon could take steps right now to ease the burden on families and support them through the tough months ahead.
The most immediate is for the UK Government to drop its disastrous plan to cut Universal Credit. If the Prime Minister doesn't change course, a staggering 400,000 families in Scotland are set to lose £1,000 a year and 30,000 children could be pushed into poverty.
With the UK facing the worst recession of any major economy, pulling away this vital support would be devastating for the life chances of Scotland's children.
The level of insecurity faced by so many is so great that in all Scottish constituencies represented by Conservative MPs, the number of people that will be affected by this cut is greater than their UK Parliamentary majorities. To each of those MPs, and MPs across the UK, my message is clear – put party interest aside and vote with Labour tomorrow to stop this cut.
While there have been some positive social security reforms in Scotland, such as fortnightly payments for Universal Credit, they fall far short of what is needed.
It is unforgivable that the implementation of the Scottish Child Payment has been delayed, robbing Scottish families of the much-needed support they were promised. The progress Labour made in in reducing poverty is being reversed and a generation of Scottish children are growing up poorer as a result of the SNP's failure.
The Scottish Government has the power to tackle poverty now. The Scotland Act of 2016 enables the Scottish Government to introduce new benefits in any devolved area. For areas that are not devolved, any top -p benefit can be introduced.
What is lacking in Scotland is not the power, but the political will to deliver a better social security system. The SNP can choose a different path, but too often they refuse to do so and instead play politics as a tool for constitutional debate. Why else would the First Minister manufacture a grievance with the Tories on the payment for NHS workers instead of just ensuring all of the money went to NHS workers?
We want Britain to be the best country to grow up in and the best country to grow old in. That means the Scottish and UK governments should and could work together to put families first to create a compassionate, fairer social security system for Scotland.
Instead, the SNP has spent hundreds of millions recreating the infrastructure that already exists with the Department for Work and Pensions, wasting time and money that could have gone to families in need, just to make a political point.
In Westminster and in Holyrood, Labour will always stand up for a fairer Scotland and ensure that families come first during this pandemic. I passionately believe there is a brighter future ahead of us, when we find the political will to build a better future for the United Kingdom.
- Jonathan Reynolds is Labour's shadow work and pensions secretary.