WhatsApp Covid Row: Scottish Government to hand over 14,000 mainly WhatsApp messages to UK Covid inquiry as Humza Yousaf evidence given 'unredacted'
The Deputy First Minister has confirmed WhatsApp messages from Humza Yousaf will be submitted 'unredacted' to the UK Covid inquiry
The Scottish Government will share more than 14,000 messages – most of them from WhatsApp – with the UK Covid inquiry, it has been confirmed.
Deputy First Minister Shona Robison said the inquiry had sent a section 21 notice to the Scottish Government, requiring them to hand over informal communications such as WhatsApp messages.
Ms Robison told MSPs that work was under way to provide the inquiry with the messages now the order had been received and "advice" has been sought on whether deleted materials can be recovered.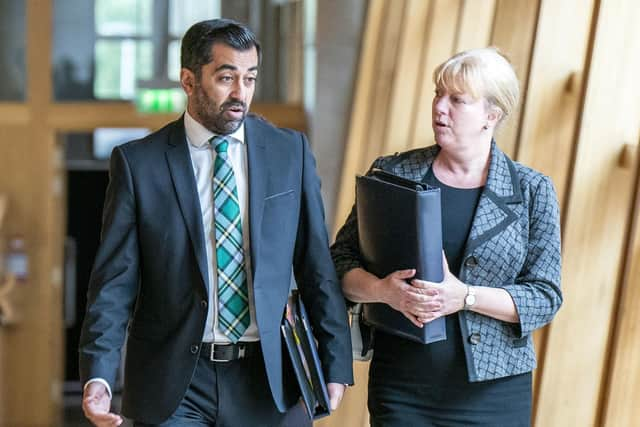 "The Scottish Government received this section 21 notice yesterday, and I can confirm that work is well under way to fully comply in accordance with the timetable set by the UK Inquiry," she said. "This will mean that all requested messages held will be shared, in full and unredacted, by November 6.
"In addition to the hundreds of messages already handed over to the UK Inquiry, this notice will allow us to share over 14,000, mainly WhatsApp, messages from various groups and individuals over the period of the pandemic, mostly concerning routine coordination of work and meetings by officials.
"I can confirm that messages from ministers and former ministers are included.
"In instances where it appears as though messages may not be available, including through deletion in line with civil service policies on data management and retention, advice has been sought as to whether device owners or a third party are able to recover material.
Informal messages sent and received by First Minister Humza Yousaf during the Covid-19 pandemic, when he served as justice secretary and health secretary, will be handed over to the UK inquiry unredacted, Ms Robison said.
Former first minister Nicola Sturgeon is due to speak shortly to confirm what has happened to her WhatsApp messages from the pandemic, following reports that correspondence had been deleted.
"As the First Minister recently stated, should either Covid inquiry want more information, then we expect every minister, past and present, every government official and clinical adviser to comply," Ms Robison said.
"I can confirm that the First Minister will, when submitting his final statement for Module 2A in the coming days, hand over WhatsApp messages, unredacted to the inquiry."
Comments
 0 comments
Want to join the conversation? Please or to comment on this article.