The Scottish secretary told MPs on Tuesday the UK Government will make an order under Section 35 of the Scotland Act, the first time the device has ever been used.
Making a statement in the Commons, Mr Jack claimed the decision was about the "legislation's consequences for the operation of GB-wide equalities protections".
The UK Government has now published its reasons in full, citing adverse effects on gender recognition certificates across the UK, increased risk of fraudulent applications, and its impact on the Equality Act 2010.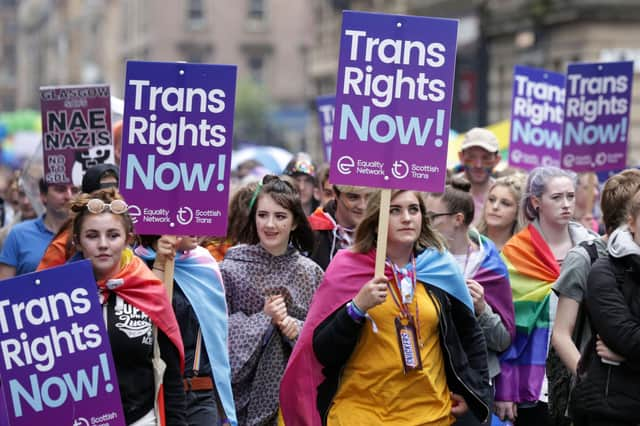 These are the reasons given for triggering the section 35 order:
Impact on Gender Recognition Certificates
The UK Government claims by changing the way a GRC is obtained, Scots law then deviates from the rest of the UK, creating a dual system.
It claims because the Bill does not have any legal impact outside Scots law, a UK citizen could have a different gender and legal sex depending upon where they happen to be within the UK, and which system of law applies to them.
They label it "practically and legally undesirable for all, including in particular the individual holder of the GRC", that a person will have one legal sex in Scotland and a different one in England, Wales and Northern Ireland.
It also suggests by removing the "more rigorous" UK measures, it could "potentially lead" to overseas citizens in the UK applying for a Scottish GRC instead as it is easier.
Increased risk of fraudulent applications
Minister also claim the Bill removes measures which the UK Government considers as "important safeguards", specifically removing the need for third party verification or evidence.
They say by making it easier to change a GRC, it will make the number of those applying to do so significantly increase, to one that removes a medical threshold and is far more dependent on an "applicant's personal judgement".
By shortening the time requirement to make the decision, the UK Government says the likelihood of individuals varying or wholly ending their commitment while having changed their legal sex will increase.
The document also raises concerns over the category of people who will be regarded as women, as it will no longer be a biological woman or a woman aged 18 or over who has a GRC as a result of having a diagnosed medical condition and has two years of lived experience. It will, in Scots law, be a biological woman or a person aged 16 or over who has self-identified as a woman for six (or nine) months.
The UK Government also takes aim at the expansion of those able to apply for a GRC, specifically applicants aged 16 to 17, those without a diagnosis of gender dysphoria, and people who have not lived for two years in their acquired gender.
They say this new cohort of eligible applicants would adversely affect the operation of the Equality Act 2010, across four areas, including clubs and associations (where exceptions apply in respect of sex, but not in respect of gender reassignment), Public Sector Equality Duty, equal pay, and provisions where exceptions apply for both sex and gender reassignment.
They claim a GRC can change the sex that a person has as a protected characteristic, changing their rights in a pay claim. Ministers also raise concerns about access to single-sex spaces, such as schools and clubs.