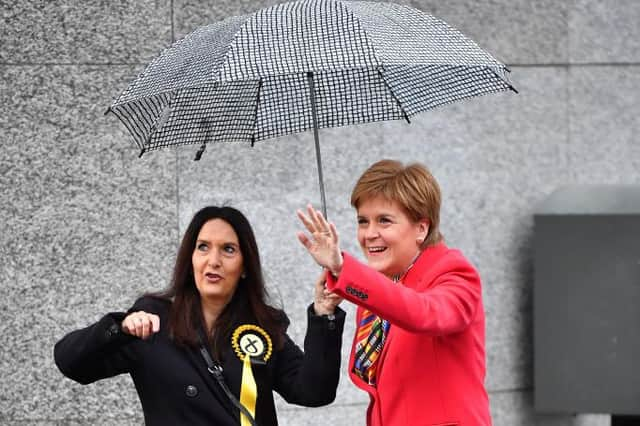 First Minister Nicola Sturgeon helped Margaret Ferrier successfully campaign to win back her South Lanarkshire seat from Labour at the 2019 General Election. Picture: Jeff J Mitchell/Getty Images
The disgraced Rutherglen and Hamilton West MP has shown no sign of standing down, but with First Minister Nicola Sturgeon calling for her to quit it remains unclear if she will continue.
Despite having the whip withdrawn and now sitting as an independent, there are only a few ways for a sitting MP to actually be forced out.
Nicola Sturgeon suggested Margaret Ferrier should stand down
One way could be through a recall petition, which would need at least 10 per cent of Rutherglen and Hamilton West's 81,000 constituents to sign, forcing a by-election in the constituency.
However, this can only be triggered in certain situations, and is still no guarantee of getting them out.
These include if the MP was convicted in the UK of an offence and sentenced to prison with all appeals exhausted.
If the sentence is less than a year, a recall petition is triggered, with only imprisonment for more than one year seeing the seat vacated automatically.
A recall petition is also sparked if the MP is suspended from the House for at least ten sitting days in a sanction from the Committee on Standards, or 14 non-sitting days if not specified.
The final way is if they are convicted of an offence under section ten of the Parliamentary Standards Act 2009, which refers to making false or misleading Parliamentary allowances claims.
Ms Sturgeon made clear last week she thought the shamed MP should go, but admitted she had no power to make it happen.
She said: "It's a statement of fact that no party leader can force an MP or an MSP in Scotland to stand down.
"When you are elected to Parliament you are elected as an individual, so parties cannot force people to stand down.
"What parties can do is decide whether or not you sit within their group and the SNP has withdrawn the whip.
"I think it would be wrong for me to start to speculate about these processes in a way that might pre-empt or any way prejudice their consideration – but I think she should step down and make all of that a moot point."