War against Ukraine: SNP defence spokesman criticises US cluster bombs being sent to Ukraine as President Joe Biden meets Rishi Sunak
The US decision has been criticised by a series of European countries.
The SNP's defence spokesman has criticised the decision by the US to send cluster bombs to Ukraine.
The Joe Biden administration announced on Friday the weapons would be included in America's next £625 million arms package sent to Kyiv.
A cluster bomb is a weapon engineered to scatter submunitions over a wide area, potentially risking civilian collateral damage. The weapon is banned by the 2010 Convention on Cluster Munitions, endorsed by more than 100 countries, including the UK and Spain.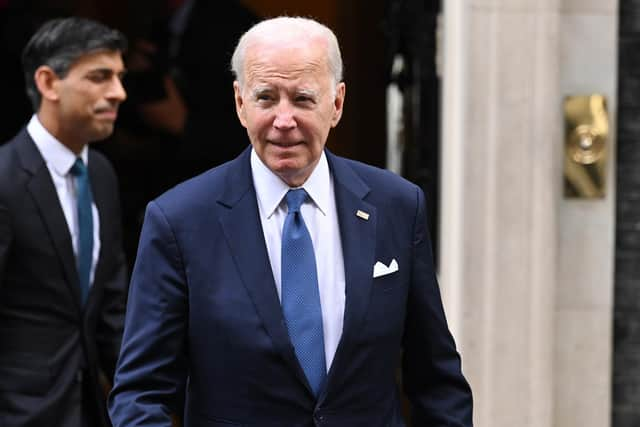 However, the US is not signed up to the convention. Neither are Russian nor Ukraine.
SNP defence spokesman David Doogan has criticised the decision over humanitarian concerns.
He said: "Cluster bombs are the antithesis of precision combat operations and invariably present catastrophic risks to non combatants post conflict. They should not be used."
This criticism was shared by Prime Minister Rishi Sunak in advance of Monday's meeting with President Biden, who stressed he would honour Britain's commitment as a "signatory to a convention which prohibits the production or use of cluster munitions and discourages their use".
Mr Sunak added: "We will continue to do our part to support Ukraine against Russia's illegal and unprovoked invasion, but we've done that by providing heavy battle tanks and most recently long-range weapons, and hopefully all countries can continue to support Ukraine".
Labour have also condemned handing Ukraine the cluster bombs, which comes as the country engages in a counteroffensive against Russia.
Shadow chancellor Rachel Reeves said: "I would like to find a way to properly arm Ukraine, but without using these weapons, which can have an impact on the battlefield at that time, on that day, but for months and years afterwards. That is something that causes me deep concern.
"While I support President Biden's desire to ensure Ukraine is fully armed to fight Russia, I am not convinced these are the appropriate weapons".
Defending the move, Mr Biden sought to justify the bombs as needed to fortify Ukraine's depleting ammunition stocks after receiving assurances about their use from Kyiv.
Speaking after their meeting, Mr Biden insisted he "couldn't be meeting with a close friend and greater ally". He said: "Our relationship is rock solid."
Comments
 0 comments
Want to join the conversation? Please or to comment on this article.