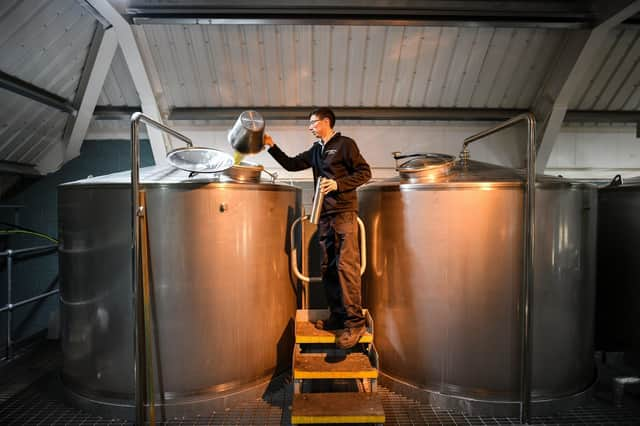 Kingsbarns distillery manager Peter Holroyd takes a dip and gravity test from the washback in St Andrews, Scotland. Picture: Jeff J Mitchell/Getty Images
Scots Whisky Association (SWA) chief executive Karen Betts said the economic fallout from a trade war between the EU and the US was greater than the hit from Covid-19, with distillers now fearing the dispute could deepen and rumble on into 2021.
Washington imposed a 25 per cent tariff on single malt in October last year in an escalating row over subsidies between aircarft manufacturers Boeing and Airbus. Appeals from the UK government, including a personal intervention from Boris Johnson with Donald Trump, have failed to get the measures eased.
Ms Betts said that in the first six months after the tariffs were imposed, exports to the US – the largest and most valuable foreign market for Scotch whisky – fell by a quarter. In April, the first full month under the coronavirus lockdown, exports fell by nearly half, potentially putting thousands of jobs in rural Scotland at risk.
"If we can't resolve this US tariff issue, it is a more strategic threat to the industry than Covid is, because there's a risk that we start to lose longer-term market share that takes a very long time to win back," Ms Betts told MPs on the Scottish Affairs Committee.
The SWA chief executive told MPs that the coronavirus outbreak had also delayed a World Trade Organisation judgement on an appeal from the EU in the Boeing-Airbus dispute, which had been expected in May but would now not be issued before September.
"What that means is that a really substantive negotiation between the EU and the US on the Airbus-Boeing dispute is not going to happen before the US elections," Ms Betts said. "If this tariff cannot be resolved this summer we're looking at having it in place probably for at least another six months. That's really concerning."
The Office of the US Trade Representative also announced on Wednesday that it will undertake the first six-monthly review of the tariffs already imposed under the Boeing-Airbus dispute.
"We think that they could make some substantial revisions," Ms Betts said. "They could raise the tariffs on single malt. They could bring in a tariff on blended whiskey. They've also got some other new UK products on the list, including gin. It's important to note that 70 per cent of gin produced in the UK is produced in Scotland."