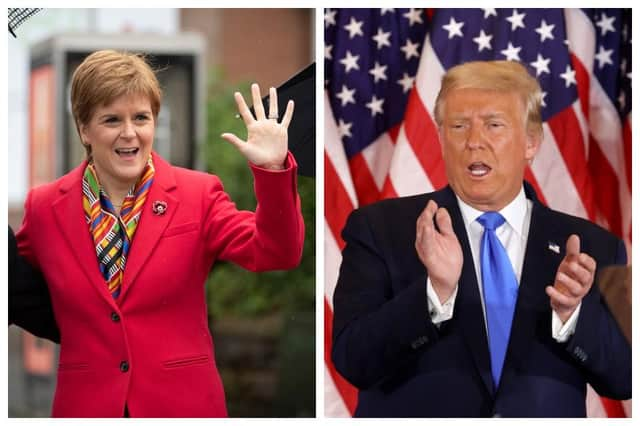 Unionism has been compared to Trumpism by leading SNP figures.
Ian Blackford, addressing the virtual SNP conference, warned that Boris Johnson and the UK Government's Internal Market Bill was the biggest threat to devolution since the Scottish Parliament opened in 1999.
Linking the suggestion that the UK Government will continue to deny Scots a second referendum indefinitely, he likened the Prime Minister to the outgoing president of the USA, Donald Trump.
He said: "The Tories are trying to provoke us and their tactics are becoming more desperate by the day, but let me tell you, it won't work.
"We will remain calm, clear-headed and confident because we are wise enough to know that what ultimately happens to those who rage against democracy.
"We only need to look across the Atlantic to see. Democracy deniers are destined for only one thing, defeat."
This was echoed by Constitution Secretary Michael Russell who said the SNP would take a lesson from Joe Biden when moving his party's annual motion in favour of seeking Scottish Independence.
Referencing dissenting voices within the SNP who are calling for more debate around how independence is achieved, he added that the SNP must not "rush to a glorious defeat".
He said: "There's a lesson to be taken from Joe Biden. Confronted with anti-democratic ravings from Donald Trump, he didn't match them with threats or lawsuits, he matched them with a confident and flawless commitment to a democratic process and that ensured his success.
"If the people of Scotland vote to have their say, refusing that will have implications and consequences well beyond these shores. We need to be prepared for all eventuality and we are and we will be.
"It requires to show unity of purpose and not to be tempted by that particularly Scottish trait of rushing to a glorious defeat. We've shown we can do that too.
"Let's keep the heid and the heart engaged, lets keep working together and together we will make Scotland independent at last.
The Westminster leader of the SNP had earlier said unionism was solely defined on rejecting independence.
He said: "Unionism's only remaining definition is opposition to the SNP and to the independence movement.
"No longer is unionism an argument for something, it is now reduced to being a tired old argument against Scotland's right to choose.
"That is not just undemocratic, it is unsustainable."
Calling on the Scottish people to vote for the SNP in Holyrood's elections in 2021, he said an independence majority would mean the Scottish Government would "decide the right time" for a second referendum.
He said: "Our plan, our job and our focus is on winning an independence majority at Holyrood next May.
"If we succeed that independence supporting parliament will decide the right time for the Scottish people to choose our constitutional future.
"We can only complete this journey together."
The comments came as the SNP's warring factions on the speed and method of independence butted heads over the need for a so-called 'Plan B' if the UK Government continue to refuse to grant a second referendum.
The party's resolution, a formality in most years, was backed by more than 1,200 delegates but saw 262 votes against it, mainly due to concerns around the lack of debate around the strategy towards gaining independence.
Speaking in favour of the motion, one of Nicola Sturgeon's fiercest critics, Joanna Cherry, said it was time for the SNP to start working on the arguments in favour of independence.
She said: "Whilst our Scottish Government has rightly been focused on Covid, we need to act to protect our democracy.
"Majority support for devolution in Scotland was ignored by the Tories for more than a decade, that alone should give pause for thought to those who say we don't need a Plan B.
"If we win the Scottish election next year...it would be positively Trumpian for Boris Johnson to veto a second referendum.
"But if ever any United Kingdom Prime Minister was capable of Trumpian behaviour, then it is Boris Johnson, so it makes sense for us to think about what we should if he continues to veto a second referendum."
The party's Homes Affairs spokeswoman at Westminster had, before conference, called for an end to the "cult of leader" at the top of the party.
She said this should be replaced with more "collegiate" approach to internal debates including how best to accelerate Scottish independence.
Ms Cherry reiterated her call for a working group on the SNP's ruling body, the NEC, to be formed to discuss routes to Scotland's severing of ties with the UK, including a "plan B" if Westminster again blocks a vote on the matter.
However, SNP MSP Linda Fabiani had previously said "we have the right to decide our own future. There's no Plan B required, no Plan C, Plan D, or whatever. We have that right." underlining the disagreements in the party.
The independence resolution was also described by internal party critics during the debate as a "long-winded anodyne list of platitudes" and was also criticised for lacking anything new in the way of policy.
Mhairi Black, the SNP MP for Paisley, also warned that the party and independence movement were not immune to misinformation creeping into the independence debate.
She said: "We know for a fact that there is deliberate disinformation, divisiveness and online interference in politics worldwide, and we're kidding ourselves if we think we are exempt from it."
Responding to the Trumpian accusations, the Scottish Conservative's education spokesman Jamie Greene SNP conference didn't address failures in Scottish education, the economy, our care homes, or how to positively rebuild Scotland after the pandemic.
"Instead they are fixated on grievance with the rest of the UK and ripping our nation apart once again with another referendum."
A message from the Editor:
Thank you for reading this article. We're more reliant on your support than ever as the shift in consumer habits brought about by coronavirus impacts our advertisers.
If you haven't already, please consider supporting our trusted, fact-checked journalism by taking out a digital subscription.