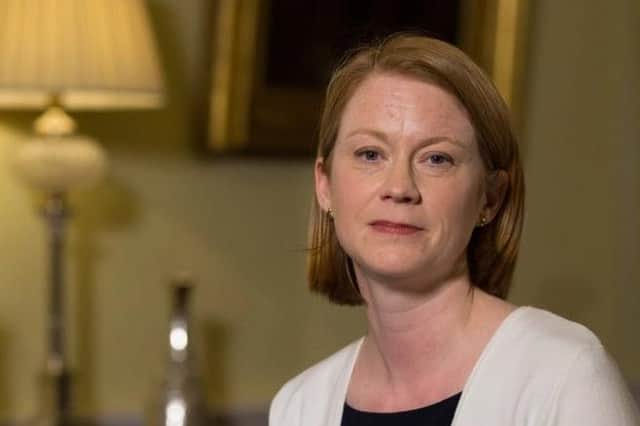 Shirley-Anne Somerville says the benefits system needs to be "reset"
Shirley-Anne Somervile said that the outbreak has strengthened the case for a universal basic income (UBI) in Scotland and pledged to "press the case" again with UK ministers to back the measure.
New research today also backs a basic income floor for all as a way of responding to the economic crisis brought about by the pandemic.
The number of Scots claiming universal credit rose 110,000 in the month from March 15, compared with about 15,500 in the same period the previous year with widespread concerns that the Department for Work and Pension (DWP) has been overwhelmed by claims from hundreds of thousands who have lost their incomes.
"We do need to see whether there any lessons that can be learned on a wider level and where there are gaps in the welfare system and where there are people who have been failed as we've went through this, then it's perhaps time to have a look at that and reset it," Ms Somerville told MSPs on Holyrood's social security committee today.
The Scottish Government has already provided funding for four councils to carry out a study into the feasibility of introducing UBI, including the possibility of pilots.
A final report is due to be published later this year, but an interim report made it clear that Holyrood does not have the power to go it alone and would require UK Government support for such a scheme.
"One of the challenges that we have with this is that the UK Government for a long time have not been convinced about this," Ms Somerville added.
"But I do think that the fact that we've had to face this pandemic and seen the gaps and challenges of the welfare system being able to cope with it does absolutely show that things need to be reset, lessons need to be learned and I think the universal basic income is one of those lessons that could be learned.
"We're very determined to press that case with the UK Government in a positive fashion."
As well as long delays in getting through to DWP staff, there have been widespread concerns over the 5-week wait to receive any payment under Universal Credit.
The report today by the Citizen's Basic Income Trust and the London School of Economics via campaign group Compass finds a UBI would reduce the poverty rate.
Committee convenor Bob Doris said: "If the benefits system is not suitable and appropriate - fit for purpose – for those new 100,000 people in Scotland going into the system, then by definition it cannot be meeting the needs of everyone there already.
"So we absolutely do have to look at it in the round."
Greens social security spokeswoman Alison Johnstone said pandemic has shown the need for an overhaul of the benefits system.
"The UK's welfare system has been proven to be full of holes during this crisis, so it's no wonder that more and more people are realising the value of a basic income for all," she said.
"It's an idea that's time has come."