UK Government LGBT+ advisor quits over 'hostile environment'
The UK Government's leading LGBT+ advisor has quit and accused them of creating a "hostile environment".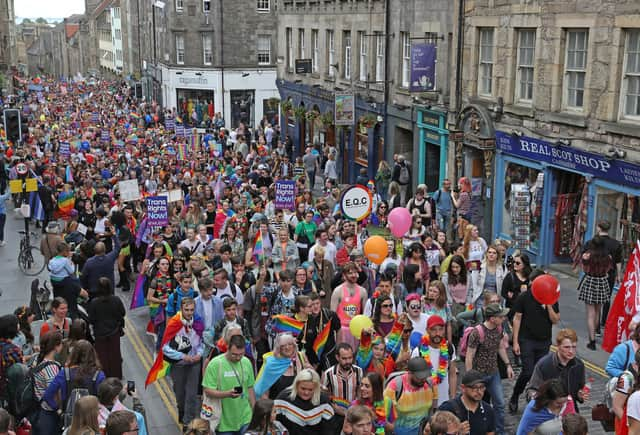 Jayne Ozanne today left the government's LGBT+ Advisory Panel accusing ministers of being "ignorant" about the issues and not understanding trans people.
Jayne Ozanne today left the government's LGBT+ Advisory Panel accusing ministers of being "ignorant" about the issues affecting the community.
Speaking with ITV News, she said: "I've been increasingly concerned about what is seen to be a hostile environment for LGBT people among this administration.
"Over the years which the advisory panel has met, we've seen an increasing lack of engagement and the actions of ministers have frankly been against our advice."
Her departure follows a debate in Parliament on Monday after a petition signed by over 250,000 people calling for a ban on"gay conversion therapy".
Prime Minister Theresa May previously promised she would stamp out the practice, but this week the Equalities Minister Kemi Badenoch told MPs she wanted to "end" conversion therapy, while repeatedly avoiding using the word "ban".
She told MPs: "I assure honourable members that we are committed to ending conversion therapy in the UK and we take the issue very seriously."
Ms Ozanne has now questioned the level of support offered by Ms Badenoch and fellow cabinet member Liz Truss, saying she does "not believe that they understand LGBT people, particularly trans people."
Now accusing the Tory party of going backwards on LGBT+ equality, she has urged the PM to act.
She explained: "There are many who fear that we are going back to the days of Thatcher, the days of Section 28.
"The language that I hear from them is of us being woke, or of being loud lobby groups, and what they don't seem to understand is the reason we have to shout is because we are hurting, because there are people who are vulnerable who are going unheard and unnoticed.
"I do not believe this Tory government, sadly, have the best wishes of the LGBT community at heart. "Instead we seem to have a Trumpesque mode of operation where they're listening to the right-wing evangelicals and those frankly who want to take us back."
A UK Government spokesperson said: "The Government is committed to building a country in which everyone, no matter their sexuality, race or religion, is free to live their lives as they choose.
"We have repeatedly made clear that we will take action to end conversion therapy".
If you haven't already, please consider supporting our trusted, fact-checked journalism by taking out a digital subscription.
Want to join the conversation? Please or to comment on this article.