UK Government bids to 'invest in Scots better than SNP'
Chancellor Rishi Sunak aims to demonstrate that the Treasury can invest better in Scotland than the SNP-run administration at Holyrood by cutting it out of a £4.8 billion "level up" fund to be distributed across the UK.
Chief Secretary to the Treasury Steve Barclay unveiled the funding yesterday that will see Scotland, along with Wales and Northern Ireland, benefit from at least £800 million each for areas such as high street regeneration, local transport, cultural and heritage projects.
But the move provoked a furious response from the SNP's deputy Westminster leader Kirsten Oswald last night, who described it as a "naked power grab".
The Scotsman understands the Treasury believes it can show that the UK Government can invest better in economic growth in Scotland than the SNP, allowing councils to bid for financial assistance from Westminster.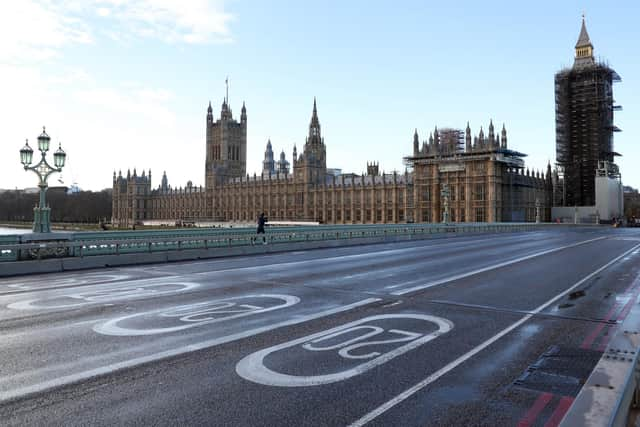 A UK Government source said: "Scotland has two governments. The UK Government has taken a considered decision to invest this money directly in Scotland.
"We will be working with local authorities, who know their communities well, rather than going through the Scottish Government.
"People in Scotland can expect significant direct UK Government investment in their communities in the future."
Announcing the funding, Mr Barclay said: "We are committed to levelling-up opportunities right across the United Kingdom so that all communities can benefit from our future prosperity.
"Our levelling-up fund will back local projects to improve everyday life for millions of people and we look forward to working with all areas to boost local economies.
"By extending the levelling-up fund to be UK-wide, we are ensuring that no community in the United Kingdom is left behind."Scottish Secretary Alister Jack said: "This fund will allow us to directly invest in capital projects in Scotland.
"I look forward to working on the delivery of the fund in Scotland and with local authorities, who know best what their communities really need.
"The new UK Levelling Up Fund is just one way the UK Government is investing in Scottish jobs and Scotland's future prosperity."
Ms Oswald said the move was a "naked power grab" designed to "dictate spending over devolved areas".
She said: "Rather than passing on funding through Barnett consequentials - which could have seen Scotland receiving its share totalling around £400 million - the Tories are intent on dismantling devolution and taking control, with absolutely no clarity over how much will be spent in Scotland."
But Aberdeen City Council co-leader Douglas Lumsden welcomed the decision as "great news for Scotland".
He said: "It will now allow local authorities and others to bid directly for financial assistance on projects that are important to the economy of the UK as a whole.
"This Levelling Up fund will ensure that ambitious projects that are currently being stalled in Scotland because of the Scottish Government austerity measures can now proceed at pace with UK Government money.
"This initiative is a win, win for Scotland and confirms that devolution works if the right models are put in place to encourage success."
Meanwhile in the House of Commons yesterday, SNP Westminster leader Ian Blackford demanded Mr Johnson "rule out a return to Tory austerity cuts" ahead of the UK Budget.
Mr Johnson insisted the Treasury had made "massive investment" throughout the whole of the UK. He accused Nicola Sturgeon's administration at Holyrood of not using the funding properly.
He said: "I wish they would would spend that money better because it's very sad to see some of the failures in education policy in Scotland, the failures in their criminal justice policy and fighting crime and I think what the people of the whole UK would like to see and I believe the people of Scotland is less talk about a referendum."
In a further development at Holyrood, MSPs rejected plans that would have led to the creation of a new fiscal framework for councils and resulted in an automatic amount transferred each year from the Scottish Government's budget.
Proposing the motion, Scottish Conservatives communities secretary Annie Wells said that the proposal would guarantee substantial funds for councils to spend on local priorities and would mirror the Barnett Formula where the Scottish Government receives a block grant from the UK Government each year.
Cosla, the umbrella organisation for Scottish local authorities, has said that councils face a £362 million black hole for revenue running costs next year – as well as a £511m revenue shortfall connected to the impact of the pandemic.
SNP MSP Ivan McKee said: "A fiscal framework for local government is a good idea.
"And that's why we agreed to develop one last year, but any framework, must be developed in partnership with local government and crucially, must never put funding for the NHS at risk."
Scottish Conservative MSP Alexander Stewart said: "If we had a fixed proportion of annual budget that would give councils the opportunity of creating a Barnett-type formula for government, this would ensure that there would not be that the uncertainty from year to year, it would allow us to make councils much more effective and efficient, it would give them the opportunity to support, and it would give them the space, and the resources to invest in the future."
Comments
 0 comments
Want to join the conversation? Please or to comment on this article.