UK Government admits 'new processes' behind Dover delays - but refuse to say 'Brexit'
The UK Government has blamed "new processes" on the worsening delays at Dover, but explicitly refused to mention Brexit.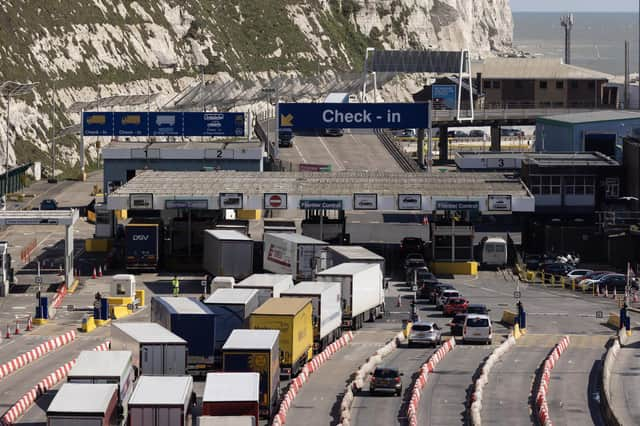 The Port of Dover suffered a critical incident over the weekend, which saw some coach passengers caught up in 14-hour-long queues, prompting claims it was due to Britain's exit from the European Union.
Home Secretary Suella Braverman dismissed this, with blame instead laid on "acute times" and the French border force on the other side.
In reality, Brexit is a clear factor, something now admitted by Downing Street, albeit not in as many words.
Speaking to reporters on Monday, the Prime Minister's spokesperson repeatedly pointed to "new processes", but repeatedly declined to use the word "Brexit".
They said: "I think there were a combination of factors that took place over the weekend and obviously it's pleasing that the port has confirmed this morning all traffic is now being processed through controls and the critical incident has been stood down.
"My understanding is that there was very high volume of coach traffic, there were adverse weather conditions, which resulted in longer queues than normal."
Asked whether Brexit was one of the factors, the spokesman said: "We recognise there are new processes in place. That's why authorities were given a long time to prepare for the new checks, including during the transition period, of course. And we are in discussion with our French counterparts about how we can further improve the flow of traffic."
Asked again if Brexit was a factor, the spokesperson again repeated his point about "new processes".
What they did not say, however, was that these new processes are the French border police inspecting and stamping all passports, something that did not happen before Britain's departure.
While queues had cleared by Monday morning, there are fears that the congestion could return during other peak periods due to this new admin not going away.
Lib Dem MP Alistair Carmichael said Brexit was the main cause of the issue, and suggested things could get worse because ministers didn't want to admit it.
He continued: "Brexit is the underlying disease here, the delays are the symptom of that and they could be managed. Inevitably you would experience delays of this sort if you just keep the same staff level.
"Knowing this would be a busy weekend they could have put extra staff on but I expect this is cultural in the government.
"It is a brave civil servant that will go to any minister in Sunak's government that will go to them and say something Brexit related is the problem."
The Lib Dem Home Affairs spokesperson claimed the Government had not anticipated the problem because "they didn't want to hear it". He suggested it was obvious there would be more work due to Brexit, but ministers had failed to produce more staff.
He explained: "Yet again the Conservatives are casting around to blame somebody else other than themselves and failing at the same time to get things sorted.
"It is self-evident if you put checks and barriers where previously there were none that will cause delay.
"These delays should be manageable with sufficient staff and resources and they are certainly predictable. The question for Government ministers therefore is why they didn't stop this. The only answer I can see is that they have comprehensively lost control."
Disruption was first reported on Friday when the port declared a critical incident and said the delays were "due to lengthy French border processes and sheer volume".
Extra sailings ran overnight, with port officials saying they worked "round the clock" with ferry operators and border agencies to get coach passengers on their way.
It came as Sir Keir Starmer claimed Brexit "has had an impact" on cross-Channel journeys, but insisted that didn't mean he wanted to be in the EU.
Sir Keir told LBC: "Of course Brexit has had an impact – there are more checks to be done.
"That doesn't mean that I am advocating a reversal of Brexit, I am not. I have always said there is no case now for going back in."
He added: "Once we left, it was obvious that what had to happen at the border would change.
"Whichever way you voted, that was obvious. Whichever way you voted, you are entitled to have a Government that recognises that and plans ahead.
"Yet again we have got to the first big holiday of the year and we have got queues, to the great frustration of many families trying to get out to have a well-earned holiday, and I think my message to the Government, their message, would be 'Get a grip'."
Eurostar revealed earlier this year it is forced to leave hundreds of seats empty on trains to and from London St Pancras to avoid long queues at stations.
It came less than a day after the Home Secretary rejected suggestions that Brexit could be the cause of delays at the port.
She said it would not be fair to view the delays as "an adverse effect of Brexit".
Ms Braverman told the Sophy Ridge On Sunday programme on Sky News: "What I would say is at acute times when there is a lot of pressure crossing the Channel, whether that's on the tunnel or ferries, then I think that there's always going to be a back-up and I just urge everybody to be a bit patient while the ferry companies work their way through the backlog."
She suggested that in general "things have been operating very smoothly at the border".
Comments
 0 comments
Want to join the conversation? Please or to comment on this article.