UK Government accused of ignoring formal request to close 'quarantine loophole'
The UK Government has been accused of ignoring a formal request from Holyrood to close the "quarantine loophole".
Scotland's transport secretary Michael Matheson has claimed the Scottish Government asked for stronger UK-wide border measures to stop those coming into England from non red-list countries being able to come into Scotland without a hotel quarantine.
Prime Minister Boris Johnson has banned foreign nationals from 33 countries, including all of South America, southern Africa, Portugal and the United Arab Emirates.
Scotland is requiring hotel quarantine for all international arrivals, with England just telling those from non-red list countries to quarantine at home for ten days.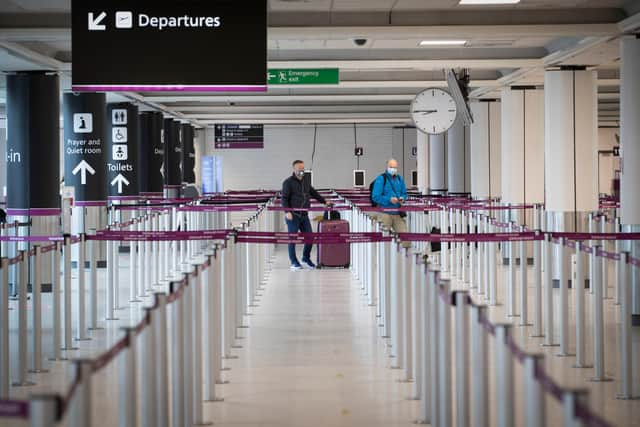 Mr Matheson's comments came on Tuesday after he was challenged on Scotland's measures by Colin Smyth MSP.
Mr Smyth asked: "What arrangements are in place to ensure passengers entering Scotland from non red list countries via airports in England are quarantined in approved hotels?"
The Scotland minister replied: "The Scottish Government's policy on international travel is based on expert advice from Sage on the need for a comprehensive approach.
"We recognise that a four-nation approach would be preferable.
"Currently anyone who lands at an airport elsewhere in the UK from a non-red list country and then travels to Scotland would not go into a quarantine hotel.
"We will continue to press the UK Government to adopt a more comprehensive approach and require all international travellers to go into a quarantine hotel.
"The measures we have introduced are designed to safeguard communities in Scotland and I would again urge UK ministers to work with us in this important task."
Mr Smyth claimed he hadn't answered the question and asked whether a formal request had been made.
He added: "In the absence of an agreement, the Scottish Government have said they don't rule out closing the Scotland-England border.
"Given that there are 22 roads and two railways that cross the border every day, and thousands of people travelling mainly from south Scotland to the north of England, can he explain the government's thinking of how the already overstretched police could enforce the closure of the border to stop someone who already landed – for example, at Manchester Airport – without stopping everyone carrying on with essential travel?".
Mr Matheson insisted he, health secretary Jeane Freeman and Nicola Sturgeon had all made the point to the UK Government and demanded "robust action".
He said: "The UK Government risks leaving loopholes for people to circumvent the comprehensive system we've introduced.
"I'm still waiting for a formal response from the UK Government on that request."
On closing the border, Mr Matheson claimed nothing was off the table.
He said: "The most effective way is a comprehensive quarantine system and that's why we are looking at other options to try and address this particular issue.
"We're looking at all options to make sure that we minimise the potential risk of the introduction of new variants into Scotland that could compromise our vaccination."
It comes after it emerged travellers from the 33 'red list' countries were not kept separate from other passengers, raising fears of spreading mutant strains of the virus.
If you haven't already, please consider supporting our trusted, fact-checked journalism by taking out a digital subscription.
Comments
 0 comments
Want to join the conversation? Please or to comment on this article.