Marc Weller, professor of international law and international constitutional studies at Cambridge University, said his memorandum, published in The Scotsman, answers the four key demands that underpin the movement for independence.
Under his proposals, there would be more self-governance according to Scottish preferences, rather than decisions in Westminster – freeing Scotland from "London's perceived dogmas" on economic policy and public spending on welfare and social services, equality, social mobility and education, and immigration.
He said Scotland's voice should be heard more clearly where decisions are taken by the UK's central institutions, while Scotland should have a stronger identity in foreign affairs. The plan would see an end to Scotland's association with the UK's nuclear weapons policy.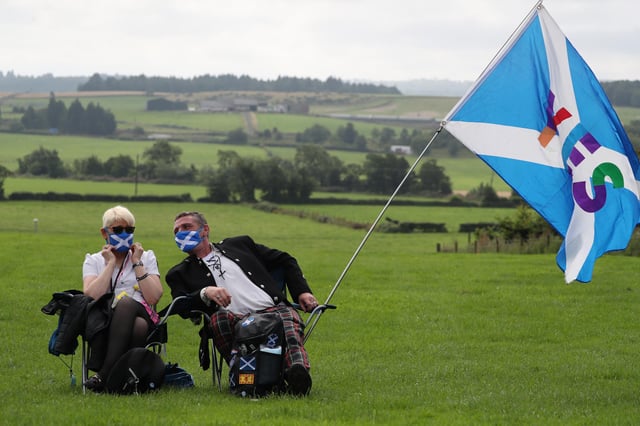 Independence could be delayed by decades by a federal system, Prof Weller claims.
Prof Weller said: "What is proposed here meets all of these demands. And yet it retains the security and benefits of continued association with the UK. It also avoids turning the UK into a full federation— anathema for traditional constitutionalists on the unionist side.
"Of course, the one thing not offered in the proposal is fully independent statehood. But the supporters of independence may be hard-pressed to find anything missing in the proposal that is actually needed for Scotland to run its own affairs. Hence, rejecting an option of this kind is tantamount to accepting that independence is needed for emotional or symbolic reasons alone."
Prof Weller said his proposal could delay demands for independence for decades.
He said: "One cannot rule out that Scotland might still seek independence after having experienced life according to federal principles for some time. However, this would be a fair way, most likely several decades, into the future. If the solution offered is a generous one, and both sides contribute to making it work, that risk would be reduced."
Prof Weller said the other three UK nations could continue with the status quo or seek further devolution themselves.
He said: "On the one hand, Scotland would gain very significantly in terms of self-governance and the exercise of its economic sovereignty. Plus, there would be a strong role for Edinburgh when it comes to running the affairs of the UK where that is in the common interest.
"And Scotland would gain higher visibility in international relations. On the other hand, to make life easier for the conservatively minded, there is no suggestion that the UK should be re-founded as a new federal state."
An SNP spokesperson said: "People in Scotland have the right to decide their own future and will remember the broken promises of the No side in the 2014 referendum campaign that the UK would become a federal state within a year or two. It is only by becoming an independent country that we can escape Brexit and the power grab that the Tories have launched on the Scottish Parliament.
"In May, the people of Scotland will face a choice to either put their future firmly in to their own hands with a post-pandemic referendum or into the hands of Boris Johnson."
A message from the Editor:
Thank you for reading this article. We're more reliant on your support than ever as the shift in consumer habits brought about by Coronavirus impacts our advertisers.
If you haven't already, please consider supporting our trusted, fact-checked journalism by taking out a digital subscription.