UK Covid Inquiry confirms Nicola Sturgeon can say whether she deleted WhatsApp messages
The former first minister is under increasing pressure in Holyrood
Nicola Sturgeon has been told to "come clean" after the UK Covid inquiry confirmed there was nothing to stop her saying whether she deleted Covid WhatsApp messages.
The former first minister is under increasing pressure after she refused to confirm or deny reports she had failed to retain messages from during the pandemic.
Scottish Conservative leader Douglas Ross said Ms Sturgeon and others would have broken the law if they destroyed messages relevant to the Scottish and UK inquiries.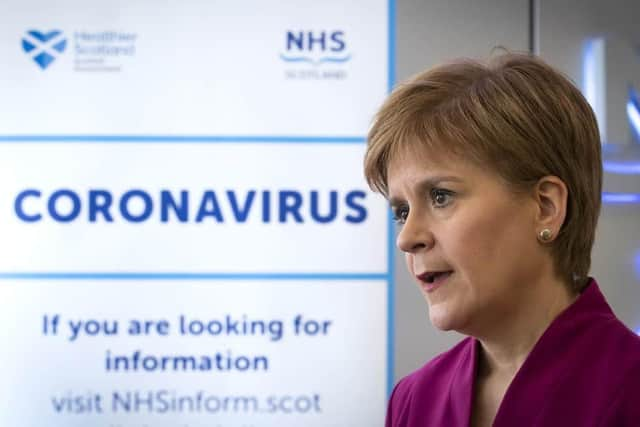 A spokeswoman for Ms Sturgeon said the former SNP leader was "committed to full transparency", adding: "Any messages she had, she handled and dealt with in line with the Scottish Government's policies. She will continue to provide all information requested by the inquiry that she holds and will continue to co-operate fully.
"She has recently submitted her third written statement to the UK inquiry – running to around 200 pages – and expects to give oral evidence again next year when she will answer all questions put to her."
The UK inquiry confirmed that while witness statements and other materials prepared for the inquiry are confidential until they are used in evidence, it does not otherwise place restrictions on what witnesses may say to the press.
Mr Ross said: "The UK Covid inquiry has ridden a coach and horses through Nicola Sturgeon's absurd excuse for refusing to say whether or not she deleted WhatsApp messages.
"No one was asking her to reveal the content of the messages publicly, just whether she'd destroyed them – a question other SNP ministers and former ministers have freely answered.
"Nicola Sturgeon's pathetic 'confidentiality' defence lies in tatters, along with her credibility. She must now come clean and confirm if she has deleted these messages."
Earlier, Mr Ross criticised a Scottish Government policy that advises deleting "business conversations" on WhatsApp at least monthly after any decisions or "salient points" have been recorded.
"This is the digital equivalent of building a bonfire to torch the evidence," he said during First Minister's Questions in Holyrood.
The Scottish Tories leader questioned why SNP ministers introduced such a policy in 2021, after the announcement of future Covid inquiries. Mr Ross said the "secretive approach" from the Scottish Government was treating families left bereaved by the virus "with contempt".
He said: "This week it was reported Nicola Sturgeon has deleted her WhatsApp messages. We know destroying or withholding evidence from an inquiry is illegal.
"Does [First Minister] Humza Yousaf accept that if Nicola Sturgeon or any Government minister has destroyed WhatsApp messages relevant to the inquiry, they would be breaking the law?"
Mr Yousaf defended his predecessor. He said: "In terms of accountability and transparency, Nicola Sturgeon stood up day after day, virtually every single day, did 250 media briefings, 70 parliamentary statements."
With the Scottish Government now in the process of handing over 14,000 WhatsApp messages to the UK Covid Inquiry, Mr Yousaf insisted his Government was "absolutely committed to being transparent, to being accountable".
He said: "We want the truth to be heard, not just by the public, but particularly by the families who were bereaved by Covid."
Scottish Labour leader Anas Sarwar also challenged the First Minister on the issue, saying Mr Yousaf gave "no equivocation, no caveats, no grey areas" when he had confirmed in June that his Government would hand over messages to the inquiry.
Mr Sarwar added: "We now know messages have been deleted. This is about the conduct of the Scottish Government, so can the First Minister tell us, of the 70 ministers and officials, how many have failed to comply with a do-not-destroy notice and how many have deleted messages?"
The Scottish Covid inquiry issued a do-not-destroy notice in August 2022. However, this will not cover messages deleted before that date.
Mr Yousaf said it would be a "pretty serious breach" of the confidentiality of the inquiry to ask current and former ministers what they had supplied.
A spokesman for the First Minister later confirmed the 14,000 messages which are being handed over consist of those sent in WhatsApp groups containing three or more individuals, including a civil servant or special adviser. They do not cover messages sent from one minister to another outside of these groups.
However, Mr Yousaf has said he kept his WhatsApp messages and will provide them. Former finance secretary Kate Forbes has said the same.
Earlier this week, Ms Sturgeon refused to say whether she had deleted messages when she was questioned by journalists in Holyrood. Jason Leitch, the national clinical director, has also been accused of routinely deleting messages.
Ms Sturgeon said: "I have nothing to hide – I am committed to full transparency to this inquiry and to the Scottish inquiry when it takes place, and I'm committed to that in the interests of everybody across this country who was affected by Covid."
The row over WhatsApp messages was sparked last week when Jamie Dawson KC, counsel to the UK inquiry, said "no messages" from within the Scottish Government had yet been provided. The inquiry's legal team has said it believed the "majority" of WhatsApp messages shared among Scottish Government officials during the pandemic "have not been retained".
David Hamilton, the Scottish Information Commissioner (SIC), said WhatsApp messages will, in most cases, fall under the scope of Scotland's Freedom of Information (FOI) laws.
He said: "I have been reviewing my live caseload and am liaising with the Keeper of the Records to determine whether regulatory action may be required in specific cases."
An accompanying statement said the SIC expected public authorities to identify and consider all appropriate recorded information when responding to FOI requests, including, where relevant, information recorded in exchanges made through WhatsApp, Microsoft Teams, or other messaging tools.
Deputy First Minister Shona Robison had said on Tuesday she could not say who the messages to be handed over to the inquiry were from, or what their content is, explaining that was "the confidential nature of what the inquiry has asked for".
She said it was "in the gift of the inquiry itself" if any of them would be made public.
Scottish Covid Bereaved Group member Margaret Waterton, who lost her mother and husband to the illness, previously said the faith of bereaved families in the inquiry process has been "shaken" by revelations that WhatsApp messages held by Ms Sturgeon and other senior figures could have been deleted.
"The situation this week with Scottish Government not having brought forward the information that it was requested to provide to the inquiry some considerable time ago, I think, frankly, is shameful," she said.
Comments
 0 comments
Want to join the conversation? Please or to comment on this article.