The First Minister said any decision to challenge the Bill would be using trans people as a "political weapon". She also attacked UK Labour leader Sir Keir Starmer after he raised concerns about the legislation and said 16 was too young to be able to switch legal gender.
MSPs passed the Gender Recognition Reform (Scotland) Bill by 86 votes to 39 before Christmas, approving reforms which would allow trans people to obtain a gender recognition certificate (GRC) without the need for a medical diagnosis.
The bill will also allow 16 and 17-year-olds to apply for a GRC for the first time, and would reduce the amount of time a person has to live in their acquired gender before they can be granted the document.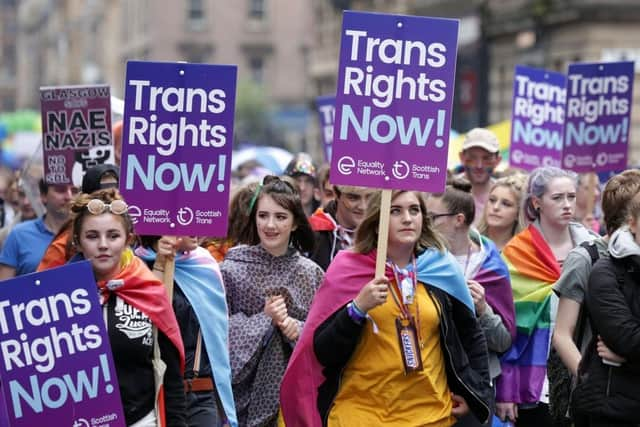 However, the move has sparked controversy, with concerns from some politicians, women's rights groups and others the changes could impact on safe spaces for females.
The UK Government is considering legal advice on whether to use its powers to block the Bill from becoming law. During a visit to Scotland last week, Prime Minister Rishi Sunak said he was concerned about its potential impact on UK-wide equality law.
Under the Scotland Act, which formed the Scottish Parliament, the UK Government can use section 33 to refer a Bill from Holyrood to the Supreme Court, or section 35 as an effective veto. The deadline for ministers to intervene is Wednesday.
Speaking during a media briefing on NHS pressures, Ms Sturgeon said blocking the Bill from receiving royal assent would be an "outrage". She said the procedure had not been used in the history of devolution.
The First Minister said: "In my view, there are no grounds to challenge this legislation. It is within the competence of the Scottish Parliament. It doesn't affect the operation of the Equality Act. And it was passed by an overwhelming majority of the Scottish Parliament after very lengthy and very intense scrutiny by MSPs of all parties represented in the Parliament.
"So if there is a decision to challenge, then in my view it will be quite simply a political decision, and I think it will be using trans people – already one of the most vulnerable, stigmatised groups in our society – as a political weapon, and I think that will be unconscionable and indefensible and really quite disgraceful."
Ms Sturgeon said there was a "bigger issue of principle", adding: "And that issue of principle is the right of the Scottish Parliament to legislate within its areas of competence, and if we see a challenge this week, then we will be seeing yet more evidence from this UK Government of complete contempt for the Scottish Parliament and for devolution in principle.
"And I would say to anyone who might welcome that because they disagree with this particular piece of legislation – if the UK Government is able to normalise action to block legislation democratically passed by the Scottish Parliament within our areas of competence on this issue, then that will embolden them to look to do it on other issues, and we will be on a very, very slippery slope indeed.
"So I think it is that serious, and I think the import and significance of this would go beyond the particular subject matter of the legislation."
Over the weekend, Sir Keir said he was concerned about reducing the age to 16 and the impact on the Equality Act.
Asked about this, Ms Sturgeon said: "I start to wonder – and I suspect I'm not the only one who starts to wonder – if there is anything Keir Starmer is willing to stand up and be counted on in the face of Tory attacks. I don't think the UK needs a pale imitation of this Tory Government. It needs an alternative to this Tory Government.
"But on this particular issue, of course this is legislation that was scrutinised and voted for by Keir Starmer's own party in the Scottish Parliament. So he'd be showing, if he backed any move by the Government to block this, he'd be showing utter contempt for his own Scottish party as well as the Scottish Parliament."
She repeated there was "no justification whatsoever" to block the legislation, and said the Scottish Government would defend it with a "very high degree of confidence".
A UK Government source said Ms Sturgeon's claims were "completely wrong".
A spokesman said: "We share the concerns that others, including the Equality and Human Rights Commission and the UN Special Rapporteur on Violence Against Women and Girls, have with the Bill, particularly around safety issues for women and children.
"We are looking closely at these issues, and also the ramifications for the 2010 Equality Act and other UK-wide legislation. Our concerns include the protection of single sex spaces, and the checks and balances included in the process of gaining a legal gender recognition certificate.
"No final decisions have been made and we are considering our next steps."
The Scottish Greens said threats to veto the legislation were an attack on the rights of trans people and democracy.
Maggie Chapman, the party's equalities spokeswoman, said: "Any attempt to overrule this decision, or to refuse to recognise gender recognition certificates from Scotland, would set a terrible precedent and send an awful message to our trans siblings here in Scotland and around the world."
She added: "It would be a shocking attack on trans rights and democracy. It would totally undermine devolution and all of Downing Street's rhetoric and claims about us supposedly being better together and part of a union of equals."