Trade bodies said restrictions which will only allow pubs to serve alcohol outside and which force them to close early will make it impossible for most businesses to open and remain solvent.
Colin Wilkinson, managing director of the Scottish Licensed Trade Association, said he believed two thirds of pubs would not be financially viable if they opened on April 16, when some restrictions are due to be lifted north of the border.
Pubs and restaurants in England could open from yesterday, serving customers outside.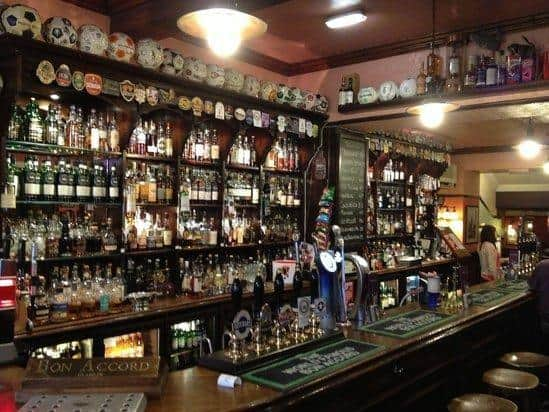 In Scotland pubs and restaurants are expected to open in the next phase of lockdown easing on April 26, but will only be able to serve alcohol outside. However, that will not be confirmed until April 20.
From May 17, it is hoped that hospitality businesses in Scotland will be able to remain open indoors until 10:30pm and serve alcohol.
Mr Wilkinson said: "Really, we're not being allowed to open on April 26. The fact that we can't sell alcohol indoors and we've got restrictions on the times we can operate, the view of the industry is that it is not viable to open.
"Even pubs which have an outdoor area will find it difficult as you can't trust the Scottish weather – and so many licensed premises do not have any outdoor space at all.
"We are very disappointed that we are, in effect, going to be still closed. I think it will be a pretty small number of Scottish licensed premises which can open in April. For about two thirds of licensed premises, it will not be viable for them to open."
Only 22.9 per cent of licensed premises in Scotland have designated outdoors areas, according to a recent industry report.
The report, from Alix Partners and CGA, said: "Scotland has far fewer community and food pubs with gardens or patios, reflecting their heavy concentration in city centres —and, perhaps, the famed unpredictability of the Scottish weather."
For many pubs and bars, any UK Government support is due to come to an end at the end of this month. Eligible businesses in the hospitality, accommodation, leisure, personal care and gym sectors may be entitled to a one-off cash grant of up to £18,000 from their local council, known as a restart grant.
Mr Wilkinson said: "They are called restart grants, but for many of our sector they won't be restarting in April."
Paul Togneri, spokesman for the Scottish Beer and Pub Association, said a recent survey by the organisation had found that under level three restrictions, estimated turnover will fall by 79 per cent.
He said: "We're definitely keen to get back as soon as we can, but we have to wait another couple of weeks. However, even when we do get to that point, there are a few issues.
"What we have called for is either to be allowed to operate fully, or increase the government support to the licensed trade. We have been given the same support as cafes or other restaurants, despite the fact our business model makes its impossible for us to operate under these restrictions.
"There are a huge number of businesses that do not have any outdoor space, or might just have a few tables and chairs outside. Without being able to serve alcohol inside, it is not viable and due to the lack of outdoor space, we believe only abut a third of businesses will open in April. I certainly don't anticipate it to be business as usual for most pubs."
He added: "There's a little bit of a left behind feeling. We are looking at changes down south a little enviously."
Stephen Montgomery, spokesman for the Scottish Hospitality Group and owner of the Townhead Hotel in Lockerbie, warned that customers could "jump the border" to drink in a pub.
He said he would "love to be opening up at the same time as our colleagues down south".
Mr Montgomery said: "We're going to be seeing people jump the border ... for that long-awaited pint of cold beer while we still remain closed. Scotland's always been behind in the way we've been operating for the last year, so it's going to be no different this time. We are at a disadvantage."
Self-catering providers have also warned they are losing business from holidaymakers able to book breaks in England. South of the border, people are allowed to travel freely – including between England and Wales – and can stay in accommodation with members of their own household or bubble.
Fiona Campbell, chief executive of the Association of Scotland's Self-Caterers, said that one member of the organisation had four properties in the borders area – two in England, two in Scotland. While the English properties are occupied from Monday, those just a short distance over the border remain shut.
She said: "With international travel unlikely to be a viable option for the immediate future, we have a real opportunity to revitalise the domestic tourism market in Scotland. But we need to be able to welcome guests from across the border.
"It is more than frustrating for businesses right on the border, watching from across a river, at colleagues opening their doors."
Ms Campbell added: "It is becoming increasingly difficult to communicate with guests who can't understand why they can't come and stay in self-catering accommodation, when it is open in England.
"Meanwhile, our island tourism businesses, including many self-catering operators, are deeply concerned at the prospect of losing business due to any difference in travel restrictions between the islands and mainland."
At the moment, restrictions on travel between the mainland and the Scottish islands may continue, even once the rest of Scotland is allowed to travel freely, in a bid to keep the islands safe from the virus.
First Minister Nicola Sturgeon has said that her decision to reopen hospitality from April 26 is linked to the rollout of the Covid vaccine. She said everyone in the nine priority groups would have had their first vaccine by mid April, with two to three weeks needed after the jag to create antibodies.
'It feels like I'm building up the business from scratch'
Paul McDonagh, owner of the Bon Accord pub in Glasgow, which was last year named the UK's Whisky Pub of the Year for the fourth consecutive year by the Good Pub Guide, said he would not be able to open until the next lifting of restrictions in mid May, which will allow customers to drink inside.
He said: "It is not worth opening in April for us. We have a couple of spaces out front in a very small area. It is not worth the electricity costs or me bringing in a chef. I am losing money being closed, but I would lose more money by opening. Just to open, there is a certain level of staff needed.
"I am hopeful that people will come back, although after 20 years at this bar, there is an element of feeling like I'm building the business up from scratch again.
"I'm a city centre bar and the office workers who used to make up my lunchtime trade aren't back – and I don't know when they will be back. I also used to rely on tourists, being a whisky pub. So even when I do open, it's not going to be fantastic.
"I have to be positive about it and look towards the 17th May. It is going to be tough, but it's one of those things."
A message from the Editor:
Thank you for reading this article. We're more reliant on your support than ever as the shift in consumer habits brought about by Coronavirus impacts our advertisers.
If you haven't already, please consider supporting our trusted, fact-checked journalism by taking out a digital subscription.