Two ministers told to resign over misleading Scottish Parliament around offshore wind statistic
Two ministers have been told to resign after knowingly misleading the Scottish Parliament over a false wind energy statistic.
Liam Kerr, the Scottish Conservative net zero spokesman, said green skills minister Lorna Slater and constitution secretary Angus Robertson should resign in "disgrace" over the scandal.
It came as he revealed ministers first became aware the claim that Scotland has 25 per cent of Europe's offshore wind potential on September 28 – more than a month before they admitted it was false in Parliament.
Ministers were forced to admit their much-used and often repeated claim following the publication of a report from the pro-union think-tank, These Islands, in which civil servants admitted it was "poorly sourced".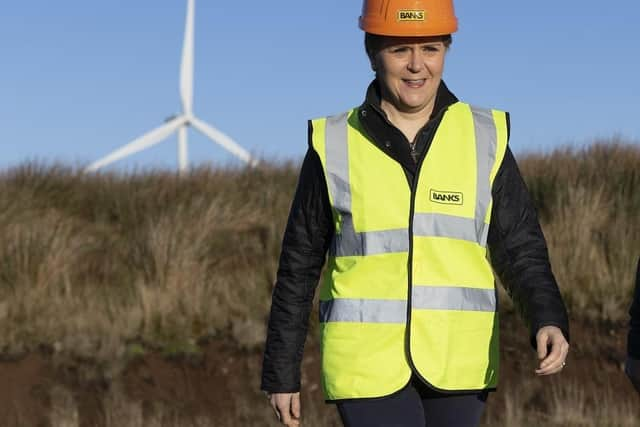 In Holyrood, Ms Slater said the first time ministers were made aware this figure was false was November 8, a claim now shown to be false itself.
Mr Robertson repeated the claim in meetings with foreign diplomats and at the SNP's national conference in Aberdeen last year. The statistic was also used by other senior SNP figures.
Despite Freedom of Information disclosures demonstrating the November 8 date was highly likely to be false, including one which showed civil servants within the First Minister's own policy unit had been aware of the issues with the figure in late September last year, the Government refused to admit it had misled parliament.
Instead, the Government stuck to its line that it became aware of the These Islands report on November 8, refusing multiple times to engage with the fact ministers had been warned earlier of the figure's misleading nature.
However, an email, sent by Mr Robertson's office last week to Mr Kerr admitted his private office was informed the figure was inaccurate on September 28 last year.
This followed Michael Matheson, Cabinet secretary for net zero, letting slip in an appearance in front of the House of Commons Scottish affairs committee that ministers had been made aware in September.
The figure was also removed from the Government's paper on the economy independence paper during this time.
In Holyrood, Mr Kerr called on both Mr Robertson and Ms Slater to resign for having "knowingly misled this Parliament". He said: "Minister Lorna Slater and this Cabinet secretary have knowingly misled this Parliament, foreign politicians and more besides.
"Given that these circumstances I have detailed suggest there have been major breaches of this code, when will the Cabinet secretary and minister Lorna Slater be tendering their resignations, in disgrace?"
Mr Robertson, who declined to put himself forward for the SNP leadership contest, dodged the question about honesty and why he repeated the statistic despite the advice from officials.
He said: "The statistic that the member highlights has been used by both the UK and the Scottish Government. It is now considered to be overtaken by developments. I've also made clear in an earlier answer to him and I'm sorry that he doesn't think that's good enough, the Scottish Government is committed to providing Parliament with the updated statistic in due course."
Colin Smyth, Scottish Labour's net zero spokesperson, asked why Mr Robertson "ignored" advice while pushing the "bogus stats", and called on him to refer himself to an independent investigation on the ministerial code. Mr Robertson failed to answer the question.
Want to hear more from The Scotsman's politics team? Check out the latest episode of our political podcast, The Steamie.
Comments
 0 comments
Want to join the conversation? Please or to comment on this article.