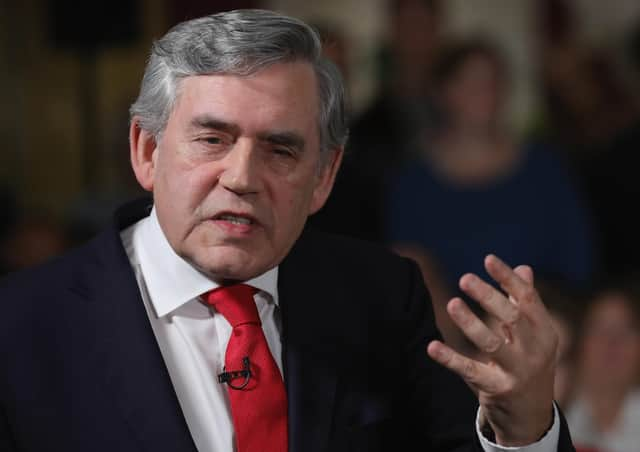 Conservative peer Lord Wolfson, the chief executive of Next, said roles will be shed from the retail industry as consumers make a permanent shift to shopping online.
And shadow chancellor Anneliese Dodds warned unemployment was heading towards "1980s levels" despite Mr Sunak's wage subsidy package, as official figures showed borrowing continued to soar and new local lockdowns were announced. Former prime minister Gordon Brown said he believed Mr Sunak would have to rethink his jobs plan to deal with the pandemic.
Mr Brown claimed there was nothing in Mr Sunak's message for the unemployed, those who are on Universal Credit and looking for employment, or young people who are outside of education and did not have a job.
He told ITV's Good Morning Britain yesterday: "[Mr Sunak] did something for part-time work, but is only paying 22 per cent of the wages. It will be cheaper, I am afraid, for an employer to keep a full-time person on than to keep two part-time people on."
The former prime minister, who served as chancellor for ten years in the former Labour government, told the programme: "I think he needs to come back with a better budget for jobs. I suspect he knows himself this morning that he is going to have to change his measures because we have got the health restrictions, but the support for the people who are protected by them is now being reduced."
Steve Barclay, who is Mr Sunak's deputy as Chief Secretary to the Treasury, defended the measures as being targeted to roles that remain "viable", but warned "we cannot save every job".
Sectors hardest hit by the restrictions in place to slow Covid-19's spread continued to raise warnings despite the Chancellor's Job Support Scheme to help pay wages for employees able to work at least a third of their hours.
Lord Wolfson told BBC Radio 4's Today programme yesterday the seemingly permanent shift to online shopping means that a lot of "unviable" jobs are in retail.
Asked if a lot of those roles are in retail, he replied: "I think that is right. I wouldn't want to underestimate the difficulty that is going to cause a lot of people who work in retail.
"I think it's going to be very uncomfortable for a lot of people. We will inevitably, and have already, reduced the number of people working in our shops and I'd expect that to continue over the coming five or six years as the demand for retail goes down."
The British Retail Consortium warned an estimated 130,000 retail jobs had been lost since January ­– a number they fear could nearly double by the end of the year "despite recent interventions by the Chancellor".
The influential Resolution Foundation think-tank warned the "winter economic package" would not stave off a spike in unemployment.
Chief executive Torsten Bell said Mr Sunak was right to announce fresh support, but added "design flaws mean that the new Job Support Scheme will not live up to its promise to significantly reduce the rise in unemployment".
"Those mistakes could be addressed by scrapping the poorly targeted £7.5 billion Job Retention Bonus, and using those funds to ensure the new support scheme gives firms the right incentives to cut hours rather than jobs," he said.
But Ms Dodds said: "The Chancellor has been very honest that we cannot save every job."
Treasury officials are understood to be working on a longer term support scheme for the unemployed, which is expected to be announced by March.