The use of the loophole in the policy comes on the first day of Scotland's new managed isolation rules, which see any travellers arriving directly into the country on international flights facing ten days of quarantine in a hotel at a cost of £1,750.
It is understood that at least three people swerved quarantine when they arrived into Scotland on domestic flights on Monday.
These included a couple who had flown from Greece into London before boarding a flight to Edinburgh, and another passenger who had arrived from Australia into London before catching their connecting flight to the Scottish capital.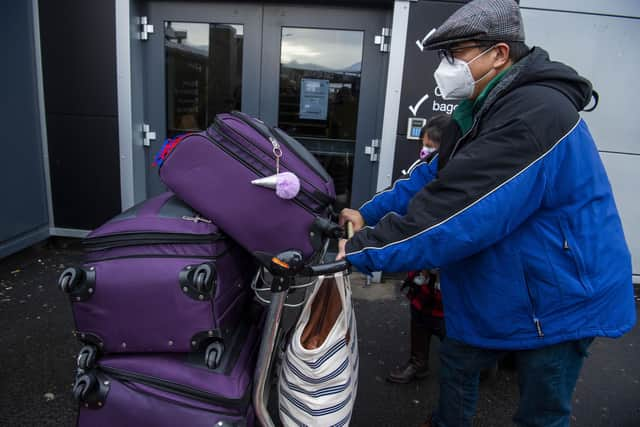 Greece is facing its highest number of Covid-19 cases since the start of 2021 with 1,492 new cases recorded on Tuesday last week following the peak of the disease in November.
Leaders in the country also extended the full lockdown currently imposed on Athens to other regions of the country in a bid to contain the spread of Covid-19.
Australia has a relatively low prevalence of the disease, but large cities have faced repeated lockdowns, including Melbourne which entered renewed restrictions on Friday.
The total number of individuals arriving in England and travelling to Scotland domestically is not known and is not tracked by officials.
Only individuals arriving directly to Scotland from any country or via Ireland from a 'red list' country are required to isolate in quarantine hotels, with those arriving through domestic travel such as buses, trains, or flights free to return home without quarantining.
Red-list countries include Brazil, Argentina, Portugal and South Africa.
Concerns have also been raised at the potential political ramifications of asking passengers arriving from the Republic of Ireland for documents while allowing those arriving from Northern Ireland to pass without equivalent checks.
This was raised as potentially worrying due to concerns around border checks and the links to the Good Friday Agreement. However, experts said there was unlikely to be any issue or any breach of the agreement.
Reacting, Scottish Liberal Democrat leader Willie Rennie said: "The Scottish Government promised a tough system of quarantine, but all that tough talk means nothing if they can't make it work in practice.
"At the moment their quarantine plans appear to be crumbling like feta cheese. The transport secretary needs to get on the phone to his opposite number in London and figure out a solution as soon as possible."
Scottish Labour's transport spokesperson Colin Smyth said: "The border loophole makes a mockery of the SNP Government's tough talk on quarantine. Their slow response to introducing airport testing and properly enforcing the previous quarantine regime undoubtedly led to cases of Covid being imported to Scotland.
"Now their last-minute response to issues that should have been ironed out before now – and the poor relations between the UK and Scottish governments – means there is no sign of any agreement to ensure anyone flying into an English airport en-route to Scotland from a non-red list country would need to quarantine in a hotel.
"Once again the SNP's actions don't live up to their rhetoric."
A spokesman for Scotland's biggest aviation hub Edinburgh Airport said: "It is clear that airlines and passengers are still confused about what is required of them, so we are lucky that numbers are so low and easily manageable.
"Unfortunately we understand a small number of passengers who were in amber countries in the past few days have travelled on domestic flights and entered into Scotland. We encourage governments to discuss how to end this confusion and close this obvious loophole that they have created."
Speaking at her daily coronavirus briefing in Edinburgh on Monday, First Minister Nicola Sturgeon responded and said: "It would be better if we had that four-nations approach, or at least a three-nations approach where the border of the island that Scotland, England and Wales share, had the same provisions in place.
"My responsibility is to try and protect Scotland as much as possible, so if it just proves impossible to do that then we have to look at alternatives, but it would be far better to try to come to a reasonable agreement on a four nations, or at least a three nations, basis."
A UK Government spokesperson said: "We have taken action to limit the spread of coronavirus and, to raise our defences against new strains, we have put in place some of the toughest border regimes in the world.
"As we have said throughout the pandemic, you must follow the rules set by the relevant devolved administration when in Scotland, Wales and Northern Ireland.
"Those arriving into England can transit onto Scotland, but must follow the quarantine and self-isolation rules of the devolved administration on arrival."
A message from the Editor:
Thank you for reading this article. We're more reliant on your support than ever as the shift in consumer habits brought about by coronavirus impacts our advertisers.
If you haven't already, please consider supporting our trusted, fact-checked journalism by taking out a digital subscription.