Transparency row after FOI finds CalMac ferry meeting was not minuted
The Scottish Tories accused the SNP of hiding details of 'botched' procurement process
A meeting of officials held just days before the Ferguson Marine shipyard was awarded the contract to build two new CalMac ferries was not minuted, it has emerged, sparking concerns over transparency.
The Scottish Conservatives accused the SNP of hiding details of the "botched and irregular process" for procuring the vessels.
It comes after the party submitted a freedom of information request asking for minutes from a meeting held on September 29, 2015, which was attended by Transport Scotland and senior executives from state-owned ferries agency CMAL.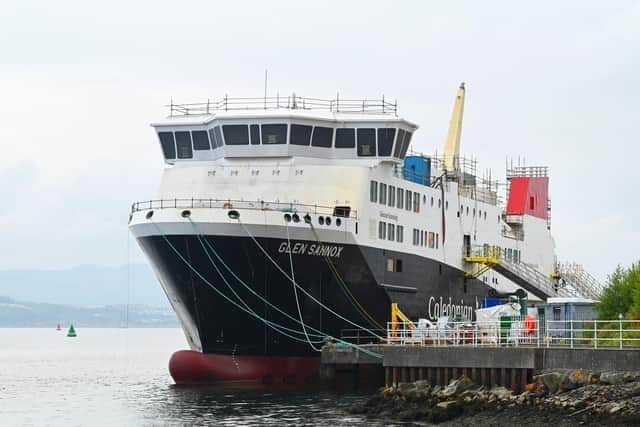 Its request was sent on March 28 last year, before Holyrood's Public Audit Committee started taking evidence on the ferries, but the response was only provided on May 26 this year – more than a year later. This confirmed there were no minutes of the meeting on record.
The Tories said the only reference to the September 29 meeting in documents published by the Scottish Government is contained in an email from a Transport Scotland official, sent on October 8, 2015, which said senior executives in CMAL had made clear it would likely face problems "no matter who the preferred tenderer was".
Ferguson Marine was awarded the contract to build the two new ferries in October 2015. The ships are now substantially overbudget and six years late.
Last month, the Scottish Government admitted it would be cheaper to scrap one of the vessels and start again. However, it said this would further delay construction, which would not be "acceptable for our island communities".
Conservative transport spokesman Graham Simpson said: "This is another example of the SNP's 'secret Scotland' and a disgraceful failure to provide transparency over this scandal, which has cost hundreds of pounds of taxpayers' money and left islanders without a lifeline service.
"It's appalling that a crucial meeting – as part of a very murky procurement process – was not minuted. And to make matters worse, the FOI which eventually revealed it was more than a year late – and not disclosed until after committee had finished taking its evidence for its report into the ferry fiasco.
"It's shocking that this unrecorded meeting was not disclosed during the Public Audit Committee's inquiry and raises further serious questions as to whether the SNP Government deliberately delayed its release to avoid embarrassment.
"The SNP Government has hidden details of this botched and irregular process from the outset, and it's still doing so – even after being forced to admit that they handled the whole scheme so badly that it would have been cheaper to start all over again. Meanwhile islanders are still waiting, and the Scottish taxpayer has an eye-watering bill for the SNP's failures."
A spokeswoman for CMAL said: "We are not aware of any minutes from the meeting, however it is public knowledge that after that meeting, the CMAL board wrote a letter to Transport Scotland recommending the procurement process be restarted."
The Scottish Government was approached for comment.
Comments
 0 comments
Want to join the conversation? Please or to comment on this article.