Tories accused of trying to 'outdo Thatcher' after unveiling new anti-strike legislation
The UK Government has been accused of trying to "outdo Thatcher" after unveiling new anti-strike legislation.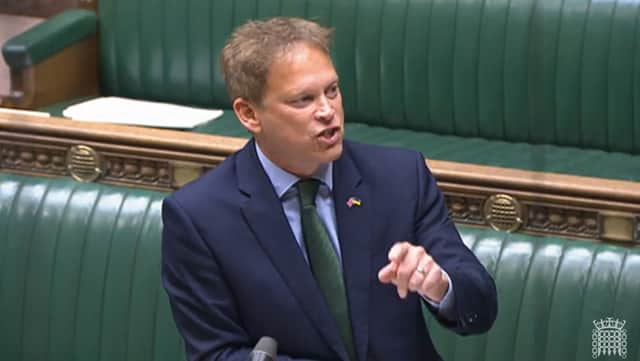 Nicola Sturgeon pledged to fight the proposals for minimum service levels during industrial action "every step of the way".
Under the plans, minimum safety levels would be introduced to ensure vital public services – including fire, ambulance and rail – maintain a "basic function" when workers go on strike.
But the proposals from Business Secretary Grant Shapps have been branded an "attack on workers' rights" by the SNP.
Unions have also condemned the legislative plans as unworkable and illegal.
The Strikes (Minimum Service Levels) Bill would apply across the whole of the UK as employment law is a reserved to Westminster.
It comes as Scottish school staff walked out over a pay dispute in Scotland, while in England and Wales around 25,000 ambulance workers are due to go on strike on Wednesday.
Mr Shapps said the strikes underlined the need for the legislation.
However, Ms Sturgeon has said her party and government would oppose the "anti-trade union" legislation at both Westminster and Holyrood.
Transport Minister Jenny Gilruth had previously urged UK ministers to exclude Scotland from the proposals – a view now echoed by Ms Sturgeon.
Despite services in Scotland also being disrupted by strikes, Ms Sturgeon said negotiations are the only suitable way to avoid walk outs.
She said: "Unfortunately, employment law is reserved to Westminster but I don't believe that should be the case. I think it should be the responsibility of Holyrood.
"I oppose that legislation. I believe that while I don't want to see workers having to take strike action, the right to strike is a fundamental right in a democracy.
"And the way you resolve industrial disputes is by negotiations, not by legislating to take away workers' rights.
"This is a Conservative government that has proven itself in the past to be no friend of workers and to be willing to take away workers' rights.
"The SNP both at Holyrood and Westminster will oppose this anti-trade union, anti-worker legislation every step of the way."
Earlier this week, Stephen Flynn, the SNP's Westminster leader, urged Labour leader Sir Keir Starmer to work with his party to defeat the legislation.
Speaking out against the proposals, the SNP's Glasgow South West MP, Chris Stephens, labelled the legislation "extreme".
He said: "Yet again Rishi Sunak and the Tories are vying to outdo Thatcher in their contempt for the workers who keep this country running, this time proposing a clamping down on the rights protecting hard-working staff.
"Square in the firing line are Scottish workers, who as a result of consistent refusals from Westminster to fully devolve employment law, face a stripping back of their basic rights.
"Extreme, heavy-handed legislation isn't the solution to industrial disputes, getting round the table with striking workers is. Instead the Tories have declared open war on ordinary people fighting for better working conditions.
Mr Shapps insisted the plans were in line with laws in other European countries and would "protect the lives and the livelihoods of the British people".
He explained the Government would consult on what an "adequate level of coverage" would be in fire, ambulance and rail services.
He said: "The British people need to know that when they have a heart attack, a stroke or a serious injury, that an ambulance will turn up and that if they need hospital care they have access to it."
The Strikes (Minimum Service Levels) Bill will also cover education, border security and nuclear decommissioning sectors, but Mr Shapps said he hopes agreements can be reached with unions in those workplaces to avoid having to use the legislation's powers.
The Business Secretary told MPs the ambulance strike involving tens of thousands of staff in England and Wales underlines the need for the legislation.
A spokesman for the GMB union, which represents some of the ambulance workers taking action, said it was an "extraordinary attack" by Mr Shapps.
They said: "He surely knows that across NHS trusts, GMB members, who care for the public every single day, work closely with employers to provide appropriate cover on strike days and have left picket lines to help out on urgent calls.
"The public know who is to blame for the crisis in our NHS – this Government. And people will be disgusted that, in a matter of months, they have gone from clapping health workers to legislating to sack them."
In her response to Mr Shapps, deputy Labour leader Angela Rayner said: "The public is being put at risk every day due to the Government's NHS crisis and staffing shortages. He is right that it is his Government's duty to protect the public's access to essential services, but livelihoods and lives are already being lost.
"We all want minimum standards of safety, service and staffing. It is the ministers failing to provide it."
Comments
 0 comments
Want to join the conversation? Please or to comment on this article.