Tories accuse SNP of 'false' and 'distorted' business rates statistics
SNP claims that Scotland has the most generous business rates relief in the UK are false, the Scottish Conservatives have claimed.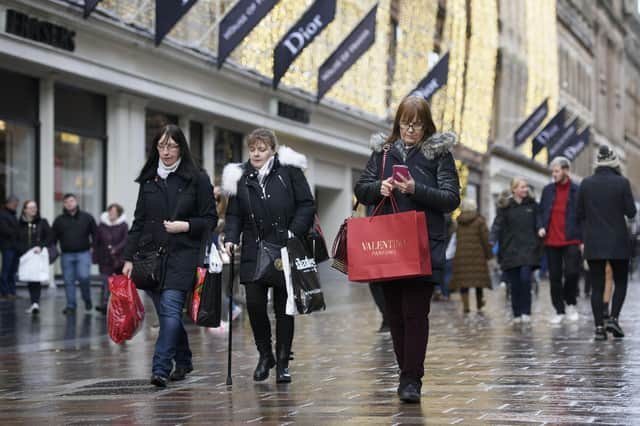 Douglas Ross' party also said claims the vast majority of commercial properties have a lower overall tax liability in Scotland than in the UK was a "misleading".
It follows the Scottish Government being found to have repeatedly used an incorrect wind power statistic for months, despite knowing it was both out of date and used fatally flawed methodology.
The government said Mr Arthur had corrected his previous claims in Holyrood and repeated the claim it was the "most generous" offer to some businesses.
Liz Smith, the Scottish Conservative finance spokesperson, said the SNP prefer to "peddle" false claims to "divert attention from their failings".
The statistics under fire are claims from Tom Arthur, the minister for public finance, that Scotland has "the most generous package of rates relief for businesses anywhere in the UK", and 95 per cent of non-domestic properties are liable for a "lower tax rate" than elsewhere in the UK.
The first claim, the Tories state, is false due to a 75 per cent discount on business rates offered to retail, hospitality and leisure businesses by the UK Government
This results in retail businesses with a rateable value of £15,000 being £3,732 worse off in Scotland than if they were in England.
Scottish Tory research also states the second claim is based on a difference of 0.1p in the poundage for properties with a rateable value below £100,000.
This results in a difference of just £15 for small businesses with a rateable value of £15,000, with those in Scotland paying £7,470 and in England £7,485.
The claim is therefore accurate, but the Scottish Tories labelled it a "distortion" and "misleading".
Liz Smith attacked Mr Arthur for the claims being made, stating he was the latest minister to join the "long list" of ministers who use "misleading or, worse, simply untrue" statistics to "divert attention" from SNP failings.
She said: "His 95 per cent boast is based on a difference of a tenth of a penny in rateable value for the lowest rated firms – but it ignores any deductions and tax relief, so doesn't apply to most firms.
"His claim about Scotland having the most generous tax relief in the UK is just flat wrong. The UK Government offers 75 per cent tax relief to retail, leisure and hospitality businesses that the SNP Government hasn't offered to Scottish businesses.
"The reality is that Scottish firms are much worse off than they would be in other parts of the UK, because the SNP Government hasn't passed on the funds that were intended for them. Instead, they choose to peddle claims intended to disguise the fact that they are shortchanging Scottish businesses."
A Scottish Government spokesperson said: "On 9 February, Mr Arthur wrote to the Presiding Officer requesting a correction to the official report to make clear that he should have referred to the Scottish Budget offering the most generous "small" business relief package in the UK – as he had already made clear in his original answer.
"The Scottish Government has set out a strong non-domestic rates package in 2023-24, including the most generous rates relief for small businesses, taking over 100,000 properties out of rates all together.
"As part of this, it is estimated that around half of properties in the retail, hospitality and leisure sectors in Scotland will pay no rates this year."
Comments
 0 comments
Want to join the conversation? Please or to comment on this article.