Tiffany Trump: who is Donald Trump's daughter and her fiancé Michael Boulos who got engaged at the White House?
She is the daughter of Marla Maples, the president's second wife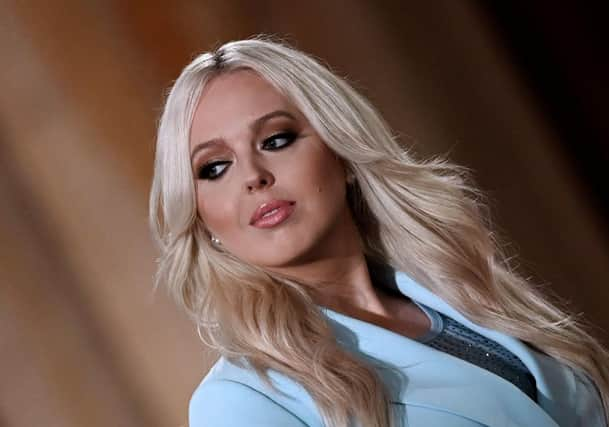 Tiffany Trump, Donald Trump's youngest daughter, announced her engagement on her father's last full day as president.
Ms Trump, who is Ivanka Trump's half-sister, was engaged to "billionaire heir" Michael Boulos at the White House on Tuesday 19 January.
She shared a picture of herself and her new fiancé on Instagram to announce the news.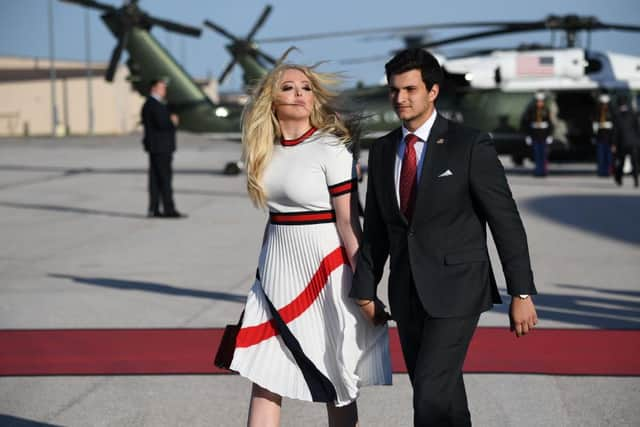 Here is everything you need to know about Tiffany Trump and her new finance.
Tiffany Trump, 27, is the only child of Donald Trump and his second wife, Marla Maples, who he was married to from 1993 until 1999.
She was born in Florida and raised mostly by her mother in California after her parents were separated.
Ms Trump was named after the luxury jewellery designer, Tiffany & Co., after the company sold her father $5 million airspace rights above its New York store to allow him to build Trump Tower.
President Trump's youngest daughter went to Viewpoint School in Calabasas, California, where fees are said to cost more than $31,000 a year.
After leaving school, she studied sociology and urban studies at the University of Pennsylvania - the same university that Ivanka Trump went to - before graduating in May 2016.
Ms Trump recently graduated from Georgetown Law School.
In the past, she has interned at Vogue magazine, modelled at New York Fashion Week and dabbled in a music career when she released a song called Like A Bird in 2011.
Who is her fiancé Michael Boulos?
Described by Vanity Fair as "Tiffany Trump's Billionaire Heir Boyfriend", Michael Boulos is a 23-year-old business executive.
He was born in Kfaraakka, a village in northern Lebanon, but grew up in Lagos in Nigeria, where his family owns a multibillion-dollar conglomerate.
Mr Boulos' father, Dr Massad Boulos, is in charge of a large number of companies that are active in more than 10 West African countries.
Meanwhile, his mother Sarah Boulos founded the Society for the Performing Arts in Nigeria.
When he lived in Lagos, Mr Boulos, who has three siblings, went to the American International School.
Moving to London for university, he studied business management at Regent's University, before earning his Master's degree in project management finance and risk from City University.
Now, according to his LinkedIn profile, Mr Boulos holds three jobs.
He's been the associate director of SCOA since 2016, the director of the Fadoul Group since 2019 and the business development manager of Royalton Investment since 2019.
Tiffany Trump and her fiance are said to have met in Mykonos in Greece in 2017, but they were first photographed together in September 2018 at the Taoray Wang fashion show in New York.
After introducing Mr Boulos to her family in Mar-a-Lago during Thanksgiving in 2018, the couple celebrated Christmas together at the White House that same year.
Ms Trump posted a photo of the pair to Instagram, where they are standing in front of a White House Christmas tree.
Who are Donald Trump's children?
Tiffany Trump's other half-siblings grew up in New York in the spotlight with their famous father.
She has previously spoken about growing up as a "normal kid" away from all the media attention that her siblings were receiving.
Donald Trump's eldest son is Donald Trump Jr, 43, who is the son of Ivana Trump, the president's first wife.
The businessman is an ardent political advocate of his father and was a fervent supporter of his presidential campaign.
Ivanka Trump, 39, is Donald Trump's first daughter with Ivana Trump.
She is also a loyal political supporter of her father's, serving as his senior advisor during his time in office.
Eric Trump, 37, the president's youngest son with Ivana Trump, is trustee and executive vice president of the Trump Organisation, and was one of the central advisors during the 2016 presidential campaign.
Donald Trump's youngest son, and his only child with his current wife Melania Trump, is Barron Trump, 14.