Finance secretary Kate Forbes announced a three-point plan to assist with soaring energy bills, increasing food costs and rising interest rates.
But anti-poverty campaigners said it "will barely touch the sides of the gaping hole in many low-income households' budgets".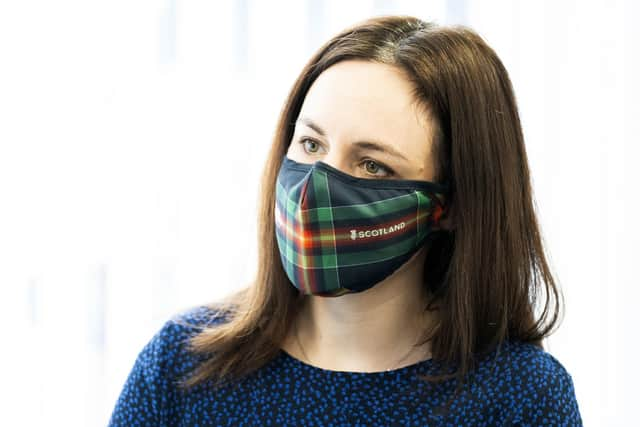 Energy bills are set to rise by 54 per cent for 22 million households from the beginning of April, adding almost £700 to the annual bills of a typical household.
Speaking in Holyrood on Thursday, Ms Forbes confirmed a £290 million support package in Scotland, following similar moves by UK Chancellor Rishi Sunak last week.
She said additional energy costs could move a further 211,000 households into fuel poverty, and around 235,000 households into extreme fuel poverty.
Ms Forbes said: "Firstly, we will provide £150 to every household in receipt of council tax reduction in all council tax bands.
"The council tax reduction scheme already identifies households in greatest need and will allow us to target this intervention.
"Secondly, I will provide local authorities with funding to pass on £150 to other occupied households in Bands A to D in Scotland.
"In total, combining these elements, 1.85 million, or 73 per cent of all households, will receive £150 of support."
Ms Forbes said councils would have a choice to deliver this as a direct payment or a credit to council tax accounts.
She said: "This is clearly an imperfect scheme. It will reach some households who may not need this, but it is the only route we have to make sure we reach those for whom it will make a difference, quickly and simply."
The finance secretary also announced £10m in 2022/23 to continue the Fuel Insecurity Fund "to help households at risk of self-disconnection, or self-rationing their energy use, due to unaffordable fuel costs".
But Peter Kelly, director of the Poverty Alliance, said: "While any additional cash into people's pockets is welcome, the measures fail to properly target support at people on the lowest incomes.
"This was a missed opportunity to protect people living in poverty from the waves of hardship that threaten to overwhelm them, and a missed opportunity to right the wrong approach taken by the UK Government."
Chris Birt, associate director for Scotland at the Joseph Rowntree Foundation, also accused the Scottish Government of repeating mistakes made down south.
He said: "While many people currently living in poverty will receive this small payment, many more people who are not in poverty will too, meaning the available funds are spread far too thinly.
"£150 will barely touch the sides of the gaping hole in many low-income households' budgets, many of whom are already facing hunger, anxiety and debt.
"There was no perfect solution available to the finance secretary, but this isn't a good one.
"This was a chance to do something different to the UK Government, whose response the Scottish Government rightly called 'wholly inadequate' just this weekend, and it is hard to understand why that chance wasn't taken."
Derek Mitchell, chief executive of Citizens Advice Scotland, said: "Further support for people struggling is certainly welcome. However, the stark reality is that lots of people are still going to be significantly worse off.
"The spring is going to see a cost-of-living crisis which will squeeze household budgets to breaking point.
"People are already struggling badly, with one in three of us finding bills unaffordable right now, and half a million people in Scotland cutting back on food to deal with bills.
"There are underlying factors at play here. 640,000 people would cite low incomes as a reason for unaffordable bills, while over 380,000 people would cite hard to heat homes.
"That's the long-term challenge for policy makers – better paying jobs, better insulated homes, and increasing our use of renewable energy."
Ms Forbes said the Government had chosen to distribute sums in a way that was simple and effective.
She also argued she lacked levers such as a full social security or tax system "to be able to best target and deliver this support".
Councils in Scotland were previously handed an extra £120m to reduce the need for "inflation-busting" council tax rises.
Speaking as the Scottish Budget passed through its final parliamentary hurdle, Ms Forbes said local authorities would also be allowed to carry forward any underspends in the Discretionary Housing Payment and the Scottish Welfare Fund into the next financial year.
Last week, Mr Sunak announced a £200 discount on fuel bills from October, which will have to be paid back over the next five years.
Homes in England will also get a £150 council tax rebate for properties in bands A-D.
The UK Government estimated Scotland would receive an extra £290m of Barnett funding as a result of this.
But Ms Forbes said that due to expected reductions elsewhere, this was not likely to equate to net additional funding.
Elsewhere, she announced tens of millions of pounds of extra business support.
This will see an additional £16m for cultural events that have faced cancellations, £7.5m for Scottish tour operators, £3.5m for outbound travel agents, and £3m towards city centre recovery to improve footfall.
One-off grants worth a total of £6.5m will also be made available for the childcare sector, including childminders.
MSPs passed the Scottish Budget by 69 votes to 54, with the SNP-Green co-operation agreement ensuring its passage through Holyrood.
Scottish Tory finance spokeswoman Liz Smith said the tax and spending plans had "failed to put economic recovery first and failed to put forward the delivery of local services".
She said: "The SNP, in my opinion, has failed to listen to business, it's failed to listen to local government and it's failed to understand where the public priorities lie."
Labour MSP Paul Sweeney said the Budget was "timid, regressive, unambitious and doesn't do nearly enough to alleviate the cost-of-living crisis, which is no longer looming in the distance but – as the Cabinet secretary herself said – is staring us directly in the face".
Scottish Liberal Democrat leader Alex Cole-Hamilton said: "The finance secretary has set the same elephant trap as her predecessors year after year.
"The SNP lay down punishing cuts to councils only at the last hour to offer a little extra cash."