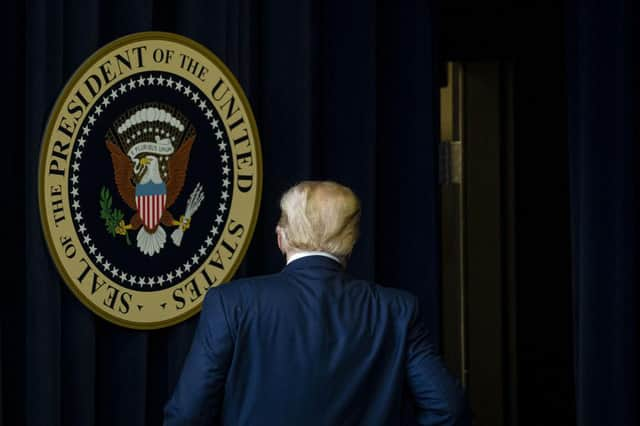 Republicans have launched yet another lawsuit to have election results nullified in key states won by president-elect Joe Biden.
Led by Texas attorney general Ken Paxton the lawsuit is asking the Supreme Court to invalidate millions of votes counted in Georgia, Wisconsin, Michigan and Pennsylvania citing widespread voter fraud, despite no evidence.
The Texas-led bid is backed by 18 Republican states and, unsurprisingly, the outgoing president, has thrown his support behind the action referring to the case as "the big one".
He tweeted: "We will be INTERVENING in the Texas (plus many other states) case. This is the big one. Our Country needs a victory!"
Mr Paxton alleges that changes to election procedure caused by the coronavirus pandemic violated federal law and that the Supreme Court should throw out the results in the four states.
Paxton also asked for the December 14 deadline for states to select presidential electors to be pushed back.
Like the lawsuits brought forward by Mr Trump's campaign team, the aim of the legal action is to swing the election in the losing president's favour.
The hope is that if a lawsuit was successful president-elect Biden would fail to reach 270 electoral college votes.
Critics of the president and his supporters suggest that the case is being brought forward to cast further doubt on president-elect Biden's victory.
Which Republican states have backed the lawsuit?
Attorney generals from 18 red states have backed the legal action.
These are: Alabama, Arizona, Arkansas, Florida, Indiana, Kansas, Louisiana, Mississippi, Montana, Nebraska, North Dakota, Oklahoma, South Carolina, South Dakota, Tennessee, Texas, Utah, and West Virginia
Will the Republican dominated Supreme Court automatically back Trump?
The Supreme Court have shown no interest in interfering in election matters thus far, chucking out a case from Pennsylvania Republicans to invalidate the states' presidential tallies.
President Trump continued to put pressure on the court on Thursday, tweeting: "The Supreme Court has a chance to save our Country from the greatest Election abuse in the history of the United States. 78% of the people feel (know!) the Election was RIGGED."
When will we hear from the Supreme Court?
The court acted swiftly in its rejection of the Pennsylvania case, though there's no guarantee that they will be as prompt in their action this time.
The judges are due to meet for a weekly Friday conference at which point the case could be discussed.
Who is attorney general Ken Paxton?
Ken Paxton has served as attorney general for Texas since January 2015.
Previously Paxton had served as a member of the Texas senate and house of representatives.
In October 2020, the attorney general was accused by several senior staff of crimes including bribery and abuse of office. Mr Paxton denied the claims.