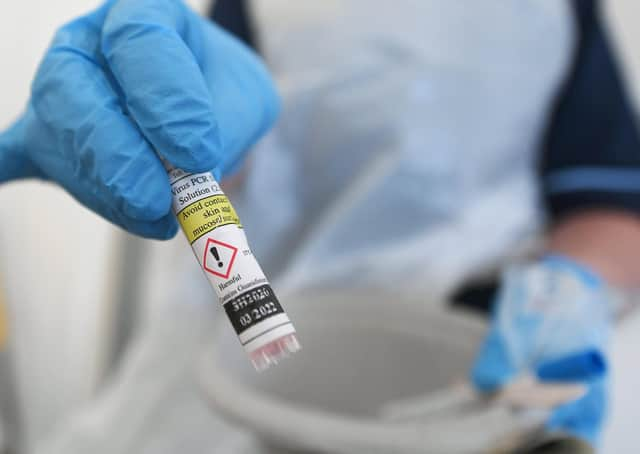 There are questions over the true testing figure
And public officials also admitted that the official testing figure is being boosted by up to 20 per cent because two different kinds of test performed on the same patient are being counted separately.
The UK government managed to hit its 100,000-a-day testing target but only by counting kits sent out, rather than only including completed tests.
Professor John Newton told the Commons science and technology committee that some 762,252 tests have been posted to people's homes, but not all have been returned for analysis.
Prof Newton told MPs that more than half had been returned, but did not provide an exact figure.
"I think certainly more than half, and we would like to get that amount up," he said. "A lot of the ones which were counted as they left were not home tests, they were the satellite tests sent out to care homes."
Meanwhile, Public Health England and the UK Department of Health have confirmed that testing numbers have been inflated by "double counting" of nasal swabs and saliva tests on the same person.
The practice increases the UK's daily test todal by 20 per cent, although that figure will have been higher in the past, before home testing kits began to be mailed out to people's homes.
Labour shadow health secretary Jon Ashworth said: "Ministers have already received an embarrassing slap on the wrists for their dodgy spin on testing figures. It seems they haven't learnt their lesson. We need absolute transparency in the presentation of these figures".
Speaking to MPs, Prof Newton urged the public to wait for an approved home antibody testing kit rather than buying one off the internet.
An antibody test that can establish if a person has already had coronavirus has been approved for use by public health officials, with the government buying ten million kits for hospitals and care homes, but a home test is still being evaluated.
High street chains including Superdrug have already begun offering a home antibody test kit for £69.
Prof Newton said: "The public need to be aware that those tests are not the same as those we have evaluated and approved for use. The laboratory-based tests have a much higher standard of accuracy.
"We wouldn't recommend at the moment that people rely on the tests that are becoming widely available.
"My advice would be to wait until we have better tests which will be available in a similar form very soon, though they are still under evaluation at the moment."
NHS England medical director Professor Stephen Powis urged caution earlier over the purchase of home test kits.