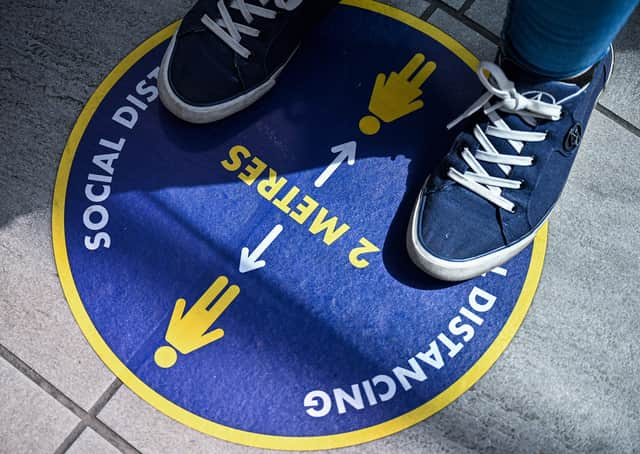 Tax breaks, investment in "shovel-ready" projects and scrappage schemes to stimulate activity are among the measures set out by the Confederation of British Industry (CBI) in Scotland as the country gradually moves out of coronavirus lockdown. They warned of the need for urgent action in order to avoid soaring unemployment, especially among young people, amid fears of a return to levels of youth joblessness not seen since the 1980s and 1990s.
First Minister Nicola Sturgeon's own advisory group on economic recovery, led by former Tesco Bank chief Benny Higgins, is to set out its blueprint for recovery today.
The lockdown saw Scotland's GDP shrink by an estimated 19 per cent in April. Unemployment has soared to 127,000 – and this is expected to worsen when the furlough scheme ends in October.
Scotland Office minister Iain Stewart called for the Scottish Government to show "more ambition" in getting the economy up and running again by August.
CBI director-general Dame Carolyn 
Fairbairn and CBI Scotland director Tracy Black have written to Ms Sturgeon calling for an ambitious recovery plan to be "urgently implemented" that responds to the scale of the challenge Scotland faces. Ms Black said: "This unprecedented crisis demands an unprecedented response to get the economy back on track.
"The Scottish economy was already struggling before Covid-19 hit, and now every single bit of growth matters for people's jobs and livelihoods.
"While we live with the virus, any recovery plan must continue to prioritise health as well as the impact on the economy. Urgent interventions are required to create jobs, especially for young people, and investment.
"Speed is of the essence – we know the dangers of long-term unemployment and the impact it has on individuals and communities. That's why we're calling for the recovery plan to prioritise jobs and training to support getting people back to work as quickly as possible."
The CBI warns that job creation must be the priority, particularly for young people who stand to be worst hit when the unemployment crisis bites.
Schemes such as the Transition Training Fund and the Flexible Workforce Development Fund should be expanded along with other initiatives to make the workforce more flexible in switching between different sectors.
Greater investment in the green economy is also being called for to create jobs. Among the measures set out are the retrofitting of all homes with a high standard of energy efficiency and the widespread expansion of the electric vehicle charging network.
The Scottish Government should also introduce measures to "kickstart demand", including a time-limited scrappage scheme to incentivise the take-up of electric vehicles.
Business rates relief could be extended to mid-sized businesses to help them press ahead with paused innovation projects, while ministers should "accelerate" shovel-ready construction projects.
Shops in Scotland are due to reopen next Monday, a fortnight after they returned south of the Border.
Scotland's tourism and hospitality sector, including pubs and restaurants, is scheduled to return on 15 July. That would be 11 days later than the planned return in England on 4 July, which is being described as "independence day" by Whitehall ministers.
There are concerns among many in the industry in Scotland after the return of beer gardens was delayed last week by Ms Sturgeon.
But Fergus Ewing, the SNP's Tourism Minister, said yesterday he still expects the hospitality industry to return in mid-July as planned.
"I'm pretty confident that July 15 will be the operative date," he said on BBC Scotland's Politics show.
"We were criticised for being unduly cautious with July 15. It allows us more time to prepare."
He said the investment made by the hospitality industry in measures such as social distancing markings, queuing systems and screens will "not be wasted".
But he said he did "absolutely appreciate the disappointment" felt by industry chiefs after the reopening of beer gardens was delayed.
Mr Stewart called for greater ambition from Holyrood ministers. "I think the focus of the Scottish Government should be a bit more ambitious to make sure the economy is getting up and running by the autumn," he said.
Mr Stewart said it is "not helpful" to focus on the UK Government's furlough scheme beyond October when it is due to finish. But Mr Ewing called for the furlough scheme to be extended.
"Our assessment is that the impact on tourism, even after resumption – which we hope will on July 15 in Scotland – will be so severe that longer-term help will be required," he said.
A Scottish Government spokesperson said: "Keeping people in work while supporting those who have lost their jobs will continue to be at the heart of our thinking as we carefully reopen the economy.
"While we have welcomed the support schemes from HMRC during this time, and their extension, we are urging the UK Government to ensure support continues for as long as required."
Scotland's tourist season runs from April to September.