Swing states 2020: the key battleground states that will decide the US presidential election - and opinion polls so far
There are a handful of states that could decide the result of the 2020 presidential election
Whoever wins the US presidential election, their performance in the battleground or swing states will likely be one of the main deciding factors.
With voting well underway the US election is all going to come down to what happens in a handful of states which historically swing back and forth from one party to another.
This is similar to UK elections, where many constituencies are considered to be "safe" for one party, and others are considered to be "marginal", meaning two or more parties have a reasonable chance of winning.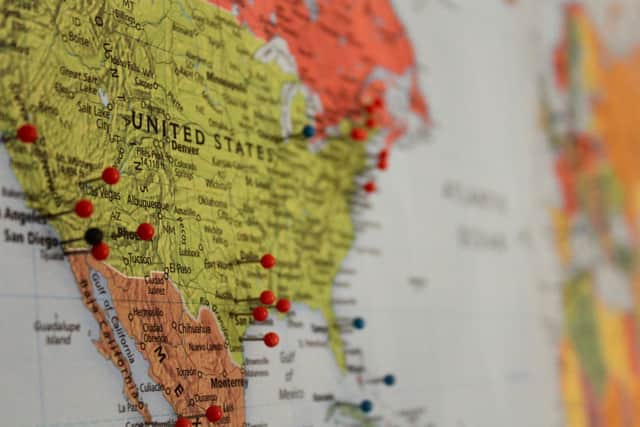 What are battleground or swing states?
In many US states, the election result is almost a foregone conclusion, such as in New York which will almost certainly vote Democrat, and Wyoming, which is similarly likely to vote Republican.
However there are some states, called battleground or swing states, which are traditionally much more split and harder to predict, with more voters in these places who might potentially vote for either candidate, depending on how the campaigns go.
This means that the path to the presidency almost always relies on a strong showing in these states, and so presidential candidates often spend a lot of time campaigning in these areas.
All kinds of factors determine which states are swing states, including demographic and population changes, as well as shifts in politics and how incumbents have performed.
Here are the states widely considered to be battleground states for the 2020 presidential election, along with the latest polling data from FiveThirtyEight:
Polling: Biden 48.5% Trump 45.7%
Traditionally a Republican state, which has backed the party's candidate in every election since 2000, a win in Arizona for Biden will be an early sign that the Democrats are going to have a good night.
Polling: Biden 48.7% Trump 46.5%
Florida is the most populous battleground state, and as such is probably the most sought after, due to the 29 electoral votes that go to whoever picks up the most votes here.
The state has switched back and forth between Democrat and Republican continuously over the decades, and could do so again after Trump's narrow 2016 win here.
Polling: Biden 48.3% Trump 46.6%
Georgia has 16 electoral votes and the state has seen one of its most tightly contested presidential races in years.
The south-eastern state has backed Republicans since the early 90's, and if Trump keeps hold of Georgia he'll feel better about his chances in many of the southern states that tend to vote red.
Polling: Biden 50.7% Trump 42.6%
The winner of Michigan will also come away with 16 electoral votes, but the state is traditionally much closer-aligned to the Democrats, who had picked up the Rust-belt state in every election for the last two decades until Trump narrowly won there in 2016.
Polling: Biden 50.2% Trump 42.0%
Minnesota is one of a handful of states which backed Hilary Clinton in 2016 but is still considered a viable target for President Trump.
Another rust-belt state, Minnesota's economy has been hit hard by decades of globalisation, and Trump will hope to tap into those economic grievances to slightly better effect than he did in 2016 and eke out a win.
Polling: Biden 49.0% Trump 46.9%
North Carolina has been targeted heavily by President Trump, who will hope to keep the state red, as it has been for most of the last few decades, other than a vote for Obama in 2008.
The Democratic challenger Joe Biden leads North Carolina according to most polls, but by a particularly low margin.
Polling: Biden 46.5% Trump 46.6%
The only battleground which is tipped slightly in favour of the incumbent president, Ohio was considered a safe state for Trump after 2016, when he won the state over Hilary Clinton by 8 per cent.
President Trump maintains a lead over Biden in Ohio according to many polls, but an upset here will probably be the clearest sign of the night that things aren't going the way Trump would like.
Polling: Biden 50.1% Trump 45.0%
Challenger Joe Biden's home-state, Pennsylvania's 20 electoral votes make it a highly valuable target for both candidates.
Polls look good in the state for Biden, and many expect the winner of this state to head to the White House, though it wouldn't be the first time Trump has narrowly pulled off an unexpected win in the state.
Polling: Biden 51.8% Trump 43.2%
Having opted for the Republican candidate for the first time since 1984 at the least election, Wisconsin shows that all manner of issues can have an impact on elections at a local level.
Despite being fairly popular in the state of Wisconsin, which backed him in 2016, Republicans are concerned that Trump's harsh stance on China will impact his chances, since one of the state's most profitable exports, Ginseng, goes primarily to the Chinese market.