Support for Scottish independence at 46% before Nicola Sturgeon resigned – poll
Nicola Sturgeon announced her resignation with support for Scottish independence at 46%, a poll has suggested.
The poll, conducted just before Ms Sturgeon gave her resignation speech at Bute House, also found 48% said things are going in the "wrong direction" for Scotland.
This represented an increase from 39% who said things are going in the wrong direction when the same poll was conducted in November.
The poll was conducted for the academic group Scottish Election Study (SES), with YouGov surveying 1,239 Scots in the five days before Ms Sturgeon's announcement.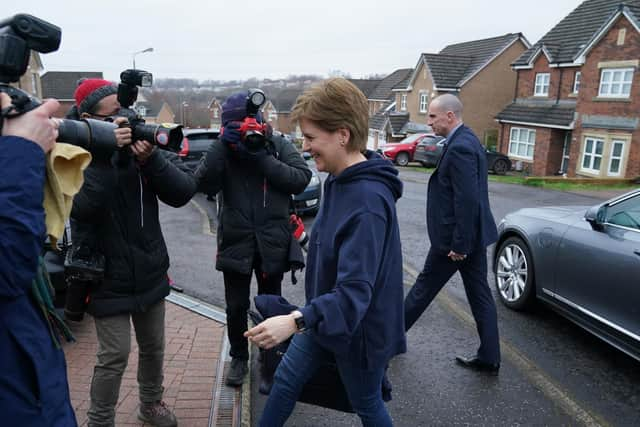 With "don't knows" removed, support for a Yes vote in an independence referendum was at 45.6% and No on 54.4%.
This also represented a decline in Yes support from the previous SES poll in November, which put Yes on 50.2%.
However, the SES researchers noted there is a considerable generational divide on attitudes to independence.
Attitudes towards treating the next general election as a de facto independence referendum are complicated by the fact that many see it primarily as a way to remove the Conservatives from office, they said.
For Westminster voting intention, the poll put the SNP on 29%, Labour on 27% and the Conservatives on 12%.
SES researcher Dr Fraser McMillan said: "While the outgoing First Minister's claim that there is now a majority for Scottish independence in the electorate is contradicted by Scottish Election Study data, it would be premature to write the movement off.
"Yes support rarely dips below the level achieved at the 2014 independence referendum, and, while it has dropped from recent highs, it still commands a majority among working-age Scots.
"Although Sturgeon has not achieved her life-long goal while First Minister, she has also not presided over any substantial decline in support for independence from the then-unprecedented 2014 result, shoring up backing among younger age groups."
Professor Ailsa Henderson, head of the SES, said: "With independence support back at its 2014 levels, the prospect of a de facto referendum is a gamble made more complicated by the fact that Scottish voters perceive the next UK election as a way to remove the Conservatives from office.
"Yes supporters actually prioritise removing the current UK Government over maximising indy support, but for Labour and Lib Dem voters, constitutional preferences trump partisan ones.
"While the wider political context in the UK is sometimes used as an argument for independence, in this instance it seems likely to complicate paths towards it."
Comments
 0 comments
Want to join the conversation? Please or to comment on this article.