Support for independence has fallen 12 points since Nicola Sturgeon appeared before Alex Salmond inquiry
Support for independence has dropped by 12 points since Nicola Sturgeon appeared before Alex Salmond inquiry.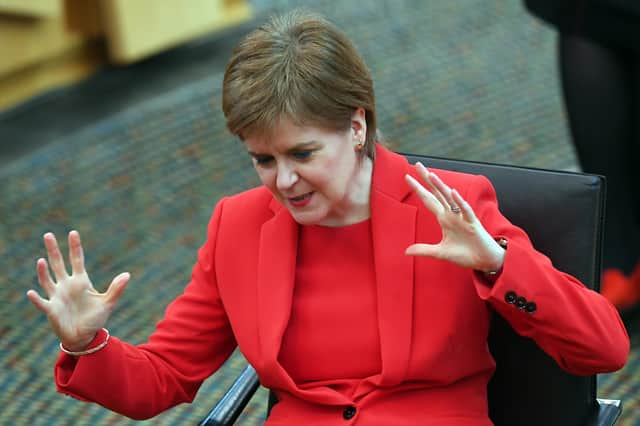 Polling by Hanbury Strategy for the thinktank Onward has shown a 12-point swing since the First Minister gave evidence to the cross-party committee on March 3.
Between February 12 and March 1, 56 per cent of Scots backed independence, dropping to 50 per cent between March 5 and 7.
The yes lead fell by 17 points among those aged 16 to 17, 34 points with those 18 to 24 and 21 points among those aged 25 to 34.
With working-class voters, it fell by 12 points.
Earlier today Scottish Conservative MSP Adam Tomkins told the BBC's Sunday Show that the First Minister should step down.
He said: "The evidence is not just clear but overwhelming that Nicola Sturgeon has misled parliament on countless occasions.
"If you are a minister in the Scottish Government you have to abide by the ministerial code.
"The ministerial code makes it absolutely clear that if you mislead the Scottish Parliament you resign. She misled the Scottish Parliament and she needs to resign."
It comes a Scotland's Constitution Secretary compared calls for Ms Sturgeon to resign with shouts of "lock her up" at Donald Trump rallies.
It followed a leak that suggested the inquiry had concluded Ms Sturgeon gave an "inaccurate" account of meetings with Mr Salmond.
Michael Russell compared the treatment of Ms Sturgeon to the shouts of "lock her up" directed at 2016 Democratic challenger Hillary Clinton during Trump rallies.
He said "What you've just heard is a version of the Trump cry 'lock her up' – if you remember that used to be shouted at every Trump rally, that's what you've just heard, and the Tories have been doing it for weeks and it's thoroughly unpleasant, and it's focused on an individual, and it's focused on undermining the Scottish Parliament.
"It's utterly discreditable and the people of Scotland need to have their say about it."
A spokesman for the First Minister has insisted she stands by the evidence she gave to the Holyrood committee and accused it of resorting to "baseless assertion, supposition and smear".
If you haven't already, please consider supporting our trusted, fact-checked journalism by taking out a digital subscription.
Comments
 0 comments
Want to join the conversation? Please or to comment on this article.