Suella Braverman: Sacked Home Secretary accuses Rishi Sunak of 'betrayal', in wake of Cabinet reshuffle
Former home secretary Suella Braverman has spoken for the first time in the wake of her sudden axing from Cabinet by Rishi Sunak
Suella Braverman has accused Rishi Sunak of having "manifestly and repeatedly failed to deliver" on key policies and said his "distinctive style of government means you are incapable of doing so", in her resignation letter.
In her letter to the Prime Minister in the wake of Monday's Cabinet reshuffle, Ms Braverman accused Mr Sunak of a "betrayal" of his promise to do "whatever it takes" to stop small boat crossings by failing to override human rights concerns about the Rwanda plan.
She also urged Rishi Sunak to "change course urgently", telling him he has led the Conservatives to "record election defeats" and that his "resets have failed and we are running out of time".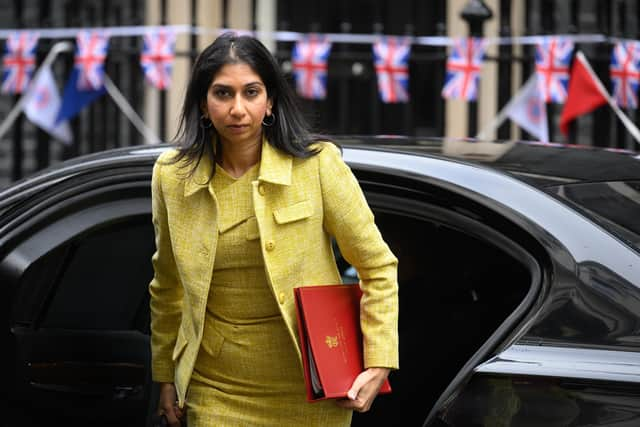 Ms Braverman said the Prime Minister would likely fail on his pledge to "stop the boats", regardless of whether the Government wins or loses the Rwanda ruling in the Supreme Court on Wednesday.
The sacked home secretary wrote if they lose, the Prime Minister will have "wasted a year" on the Illegal Migration Act "only to arrive back at square one".
"Worse than this, your magical thinking – believing that you can will your way through this without upsetting polite opinion – has meant you have failed to prepare any sort of credible 'Plan B'," she said.
The former minister said she posed her own "credible" back-up plan – without which she said there is "no hope of flights this side of an election" in the event of a court defeat – but received no reply.
"I can only surmise that this is because you have no appetite for doing what is necessary, and therefore no real intention of fulfilling your pledge to the British people," she wrote.
Even in the event of a Supreme Court victory, Mrs Braverman said the Government "will struggle to deliver our Rwanda partnership in the way that the public expects".
She said the Act is "far from secure against legal challenges" and will "leave us vulnerable to being thwarted yet again by the Strasbourg Court".
Comments
 0 comments
Want to join the conversation? Please or to comment on this article.