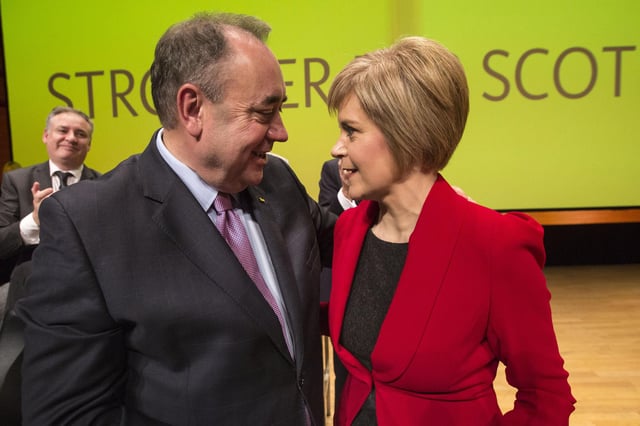 Nicola Sturgeon has said she does not have to spend much time talking about her predecessor Alex Salmond now he has his own political party.
Unfortunately for the First Minister this seems little more than wishful thinking on her part, particularly in light of her predecessor's comments yesterday.
Mr Salmond suggested supporters of independence should take to the streets in protest if, as expected, Prime Minister Boris Johnson refuses to grant a Section 30 Order for another referendum.
Invoking one of the leaders of Irish Nationalism, Mr Salmond quoted Charles Stewart Parnell: "No man has a right to fix the boundary of the march of a nation; no man has a right to say to his country – thus far shalt thou go and no further."
The prospect of "peaceful street demonstrations" will no doubt bring back unpleasant memories for BBC employees who were harangued as they tried to do their jobs at the corporation's Scottish headquarters amid what was described by its proponents as a civic and joyous display of democracy in the run-up to the 2014 referendum.
Whether further such protests would be any more civic and joyous is questionable, as indeed is suggesting them at all while the country is still in the grip of a pandemic.
But putting the prospect of street demonstrations to one side, it is difficult to envisage how Mr Salmond's new party will do anything other than deflect attention from issues that mean more to people than Nationalist infighting, such as health, education, and the recovery from the coronavirus pandemic.
The former first minister has said he intends to create a "supermajority" of pro-independence MSPs but it is possible that Alba could split the SNP list vote and reduce the party's number of representatives at Holyrood.
And for Scotland as a whole, Mr Salmond and his new party will only consign issues other than the constitution even further into the background as first minister and former first minister trade blows with each other.