Stonewall warn law change to define sex as 'biological' risks new chapter in 'manufacture culture war that will see little benefit to women'
Ministers been warned that changing the legal definition of sex to "biological" risks opening a new chapter in the culture war "that will see little benefit to women".
UK equalities minister Kemi Badenoch is considering a change to the law that would only allow women access to same-sex spaces and sporting arenas on the basis of so-called "biological" grounds.
She is understood to believe defining someone's sex as "biological" would provide "greater legal clarity" on issues of access to certain spaces, as well as involvement in sport.
Under existing guidance from the Equality and Human Rights Commission (EHRC), trans people can only be excluded from single-sex spaces with a fair reason, and being "scared" of trans people is not one of them. Trans people are protected under the Equality Act, and faculties or schools are not allowed blanket bans on trans people in single sex spaces.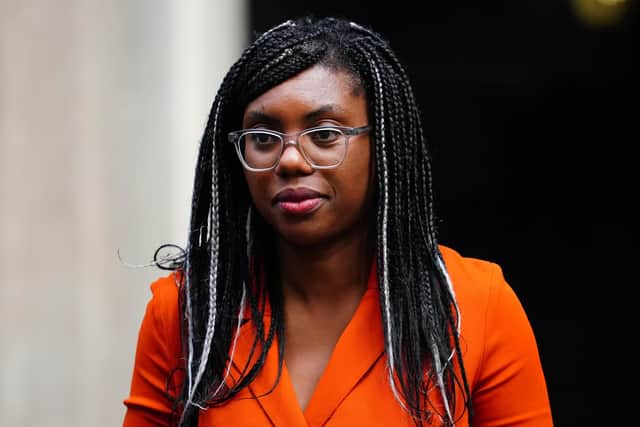 In sports, organisers have to show that excluding transgender women is necessary "in the interests of fairness or safety". By making the definition of sex biological, organisations could then bar trans women from single-sex spaces and events, including hospital wards and sports.
LGBTQ+ group Stonewall warned the move "risks opening yet another chapter in a manufactured culture war that will see little benefit to women, cis and trans alike".
A Stonewall spokesperson said: "This correspondence fails to recognise that the Equality Act 2010 has successfully supported businesses and service providers to challenge discrimination for more than a decade, and offers no substantive evidence of demand for this work.
"At Stonewall, we work with hundreds of employers week in week out. They would say that the Equality Act is working well and do not see a world where cis women are desperate to exclude trans women from their spaces. Instead, poll after poll shows that women are much more likely to support trans equality than men. The EHRC is right to consider how trans men miss out on provisions and protections, but it is fundamentally wrong to imply that trans women do not experience sexism, which cuts far beyond biology.
"We would also expect the EHRC to make further reference to some of the challenges defining 'biological' sex, discussion around how these measures would interact with the Equality Act's protection for people who are 'perceived' to hold protected characteristics, and how rights for intersex people might be considered."
The changes proposed by Ms Badenoch are expected to trigger a fresh war of words with the Scottish Government, in the wake of a section 35 order being used to block Holyrood's Gender Recognition Reform Bill earlier this year. In triggering the order, Scottish secretary Alister Jack cited adverse effects on gender recognition certificates across the UK, increased risk of fraudulent applications, and the legislation's impact on the Equality Act 2010. Despite this, the SNP declined to comment when contacted by The Scotsman.
British LGBT rights activist Peter Tatchell warned any move to redefine sex that excludes trans people would be a "discriminatory step backwards". He said: "It would deny them protections. The objective of the proposed change is to exclude and marginalise trans people, which is a violation of their human rights.
"It would drive a coach and horses through the Gender Recognition Act, meaning that trans people with a gender recognition certificate would no longer have their legal sex accepted in law and cease to enjoy the rights that this currently accords them. It would allow a blanket ban on all trans women from single-sex spaces, even when there is no justifiable reason. This is just another sordid bid to demonise trans women as a threat to other women. It's fanning the flames of culture wars and that helps no one."
The backlash follows the EHRC publishing a response to Ms Badenoch's request on Tuesday, wherein it said changing the definition could result in "greater legal clarity" for single-sex spaces.
EHRC chair Kishwer Falkner said: "Our response to the minister's request for advice suggests that the UK Government carefully identify and consider the potential implications of this change.
"There is a clear need to move the public debate on issues of sex and gender to a more informed and constructive basis. This would be welcomed by the many who do not take the polarised positions currently driving public debate."
A UK government spokesman said: "We are committed to protecting women's rights and the minister for women and equalities regularly seeks advice from the independent equality regulator as part of her role."
Comments
 0 comments
Want to join the conversation? Please or to comment on this article.