'Stick with' lockdown and don't have house parties, Nicola Sturgeon urges Scots
Nicola Sturgeon has urged Scots to continue to comply with lockdown as the country prepares to enter a fifth weekend with strict social-distancing measures in place.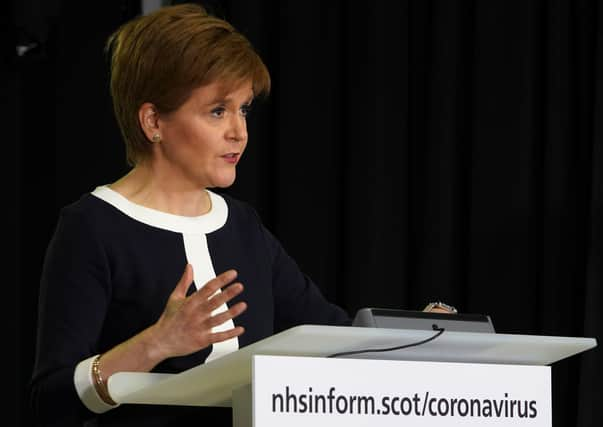 The First Minister said today there were encouraging signs that such rules were beginning to have a positive impact, with the number of coronavirus patients in hospital wards or intensive care units continuing to fall north of the Border.
Ms Sturgeon discussed a scheme in which people could meet a small "bubble" of others outside their own households as lockdown measures are eased. But with no date as yet in place for such a plan, she stressed that for now, Scots must not hold social gatherings at home.
"Let me say directly to people: don't have house parties, don't gather outside your own household," she said. "You are putting yourself at risk. Even if you think you are young and fit and healthy and you're safe from this virus - you're wrong.
"Even if I can't convince you of that, think of your relatives. Think of your grandparents, or elderly parents, or people who you may come into contact with when you leave that house party.
"This is a grim, difficult, horrible time, but we have all seen real community spirit emerge out of this. Think about that. We are all trying to do the right thing.
"Anytime anyone breaches these guidelines, they are putting people's lives at risk. Just don't do it, is my message."
The First Minister announced a rise of 64 deaths from the 1,120 recorded on Thursday during the daily coronavirus briefing at the Scottish Government's HQ in Edinburgh.
A total of 9,697 people have now tested positive for Covid-19 in Scotland, an increase of 288 from 9,409 the day before.
Announcing reductions in the number of people in hospital, including in intensive care departments, Ms Sturgeon said this a "growing cause for optimism that the lockdown is working to suppress the virus".
She said the number of people in hospital with confirmed or suspected Covid-19 is 1,710, a fall of 38 from 1,748 on Thursday, while 141 of these patients are in intensive care, down seven.
Since March 5, a total of 2,271 patients who tested positive for Covid-19 have been released from hospital, she added.
The First Minister said the sacrifices everyone is making are having a positive impact and urged Scots to keep it up as the weekend approaches.
"I'm conscious, as no doubt all of you will be, that this will be the fifth weekend since the country went into lockdown and I know that this only gets harder as time goes on," she said.
"There's no doubt that we've got a long way to go ... but it is equally true to say that we are seeing hopeful signs and so it is really vital that we stick with it and build on the work that we have done so far because by doing that we are right now slowing the spread of this virus, we are protecting our NHS and we are - despite horrible statistics I report to you on a daily basis - we are nevertheless saving lives."
She added more than 250,000 people have now viewed the paper the Scottish Government published on Thursday setting out how lockdown measures could be eased in the future.
Ms Sturgeon described the paper as a "attempt to have a grown-up conversation with the wider public" on the issue.
But with the risk that easing measures could cause the virus to surge again, she said any moves forward will need to be "baby steps".
Comments
 0 comments
Want to join the conversation? Please or to comment on this article.