'Something good' must come from Alex Salmond trial says complainer
One of the complainers in the recent trial of Alex Salmond has said "something good" must come of the two-week court case which saw the former SNP leader cleared of multiple charges of sexual assault.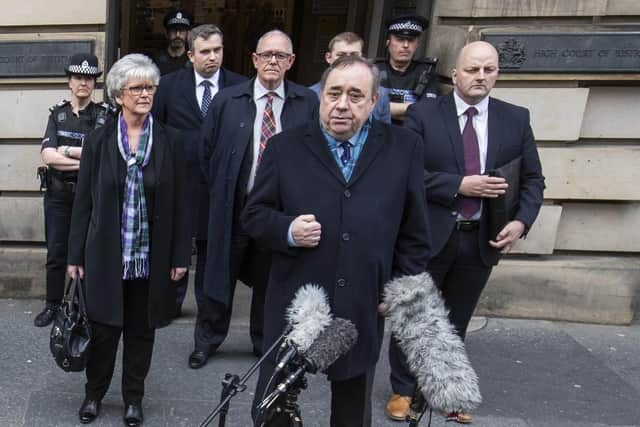 Woman K, a former civil servant in the Scottish Government who cannot be identified for legal reasons, was one of nine people who gave evidence against Mr Salmond at the High Court in Edinburgh.
She had accused him of sexually assaulting her by touching her on the buttock at Stirling Castle in November, 2014.
Mr Salmond was cleared of all charges after a jury returned 12 verdicts of not guilty and one of not proven in one of Scotland's most high-profile trials in recent decades.
In an in-depth feature examining the political fall-out of the trial published in today's Scotland on Sunday, Woman K said: "I don't want it to end like this – something good has to come of it.
"We are privileged women in so many ways. We are all highly educated, we all know the ins and outs of government, the language of bureaucracy, and even we feel helpless and voiceless.
"If we can help make the system work better for women in the future then that, at least, would be something."
Woman K described how she was working from home when the trial verdict was announced on 23 March and she suddenly heard Salmond addressing reporters outside the court.
"I couldn't move, I couldn't hear him gloating. It was a visceral reaction," she added.
Woman K was one of two women whose complaints about the former SNP leader prompted the original Scottish Government inquiry in early 2018.
She said that since then, she had been constantly checking social media to see what had been posted about the complainers.
"I can't not look for stuff," she continued. I am always there, constantly refreshing. It's an act of self-harm."
Another of the nine complainers said: "I worry that some of the commentary in the aftermath of the trial has been damaging, not only for the public discourse, but for our own safety and welfare."
And another, Woman F, said: "Obviously they [the jury] are taking a decision based on the evidence as they see it and interpret it, and that's their role and their right, but it's difficult to see that as anything other than a stamp of failure."
Speaking after the verdict, Salmond said: "There is certain evidence I would have liked to have seen led in this trial, but for a variety of reasons, this was not possible."