SNP Westminster leader Stephen Flynn warns only way to defend devolution is to 'strengthen it' amid calls for more energy powers
SNP Westminster leader Stephen Flynn has claimed the only way to defend devolution is to "strengthen it" as he prepares to use a keynote speech to demand more power over the energy sector for Scotland.
In the speech to be delivered today, Mr Flynn will call for energy powers to be devolved to Holyrood. He will urge Labour leader Sir Keir Starmer to commit to the move, while also using his address to the Institute for Government to accuse Labour of making "the same old mistakes" in Scotland.
The Aberdeen South MP is expected to say: "The Tories' resentment of devolution comes as no surprise given they opposed it in the first place. The real question now is for Labour – will they continue to mimic the Tories or will they defend devolution by strengthening it?
"We are throwing down the gauntlet to Labour. If they are serious about Scotland they will commit to devolving energy powers to the Scottish Parliament. Scotland is energy rich and in the middle of a cost-of-living crisis. It is right that the natural energy resources of the Scottish people are used to serve the needs of the Scottish people.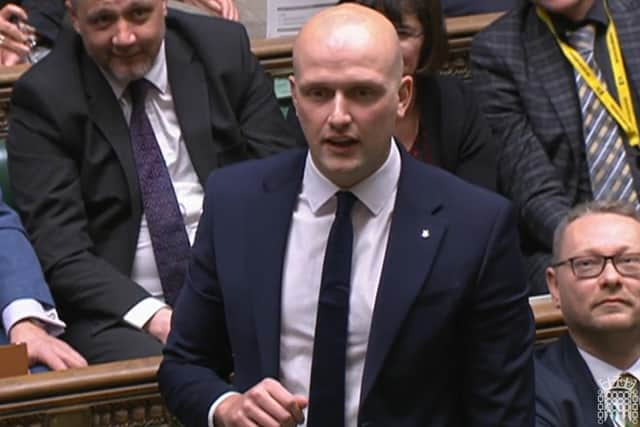 "But it looks like Labour are destined to repeat the same old mistakes in Scotland. The differences between the Tories and pro-Brexit Labour party are becoming smaller by the day, with both committed to denying us powers and a say over our future.
"Neither Starmer or [Rishi] Sunak will ever deliver the change Scotland needs. Faced with that terrible choice, I'm confident that the Scottish people will choose the only real change on offer – independence in Europe."
The Scottish Trades Union Congress also recently called for Labour to substantially strengthen their devolution offer. Mr Flynn's comments follow a column written by a senior Conservative peer that suggested stripping Scotland of devolved powers, sparking widespread criticism, including by some in his own party.
Writing in the Daily Telegraph, former lead Brexit negotiator Lord Frost urged Tory ministers, "if re-elected", to begin to "review and roll back some currently devolved powers" in light of the issues facing the SNP.
Most aspects of energy are reserved to Westminster, though Holyrood has control over planning regulations which can affect renewable power.
The SNP has long called for changes to the electricity grid system. Ministers in Edinburgh and London are at loggerheads over aspects of the devolution settlement, including the recent use of a section 35 order to block Holyrood's gender recognition legislation.
This issue has been taken to court by Humza Yousaf's Government as it seeks a judicial review.
Scottish Labour's net-zero spokeswoman Sarah Boyack said: "The SNP are once again using the constitution to distract from their own failures in our energy sector. The SNP failed to set up a green energy company or to deliver on their green jobs' promises. It's clear that what Scotland really needs to harness its energy potential is political leadership and good governance.
"A Labour government would deliver a fully costed green jobs strategy with GB energy, which would create thousands of new jobs in the green energy sector and save Scottish households hundreds on their energy bills each year."
Comments
 0 comments
Want to join the conversation? Please or to comment on this article.