The £110 million programme opens this morning, replacing the Erasmus+ scheme, and promises to fund 35,000 global exchanges from September 2021.
The scheme vows to improve social mobility, with the UK Government insisting the Erasmus went to those better off – despite not providing statistics on this.
However, the SNP s shadow education spokesperson Carol Monaghan MP has now claimed the Turing initiative is "ripping away rights from our young people".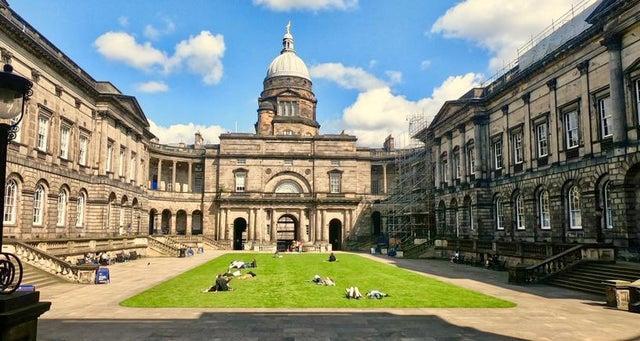 Edinburgh University
She said: "The Tory government's replacement scheme is going to leave Scottish students worse off – and it's just the latest example of the long-term damage of Boris Johnson's bad Brexit deal.
"The replacement scheme offers no tuition fees support, which can jump up astronomically.
"The Tory government has form in burdening students and young people with eye-watering debt. Its Turing Scheme will simply add to that for Scottish students.
"Our young people need their horizons broadened, not narrowed by this Tory government.
Schools, colleges and universities can now apply for funding from today to the new Turing Scheme.
"The damaging impact of Brexit on young people isn't just the view of the SNP. Boris Johnson's own Scottish colleague Andrew Bowie stated bluntly that young people will not benefit from Brexit."
Speaking as applications open, the Prime Minister insisted it was an improvement.
Boris Johnson said: "The Turing Scheme is a truly global programme with every country in the world eligible to partner with UK universities, schools and colleges.
"It is also levelling up in action. Unlike the Erasmus+ scheme, which overwhelmingly went to children from better-off homes, the Turing project is designed to help students across the country of all income groups get to fantastic schools, colleges and universities around the world."
Mr Johnson claims this will see university students from disadvantaged backgrounds receive a maximum of £490 per month towards living costs – currently worth around €573 compared to €540 under Erasmus – alongside travel funding, and other forms of additional funding to offset the cost of passports, visas and insurance.
UK organisations are now being encouraged to form partnerships themselves, with a pressure to focus on global institutions, not just those in Europe.
Successful applications will receive funding for administering the scheme and students taking part will receive grants to help them with the costs of their international experience.
UK Government minister for Scotland Iain Stewart said: "The UK Government is creating a fantastic opportunity for young people in Scotland, including those from lower-income backgrounds, with the introduction of the Turing Scheme.
"Embracing the Turing Scheme will ultimately enhance a student's skills, broaden their international outlook, improve their employment prospects and benefit communities and employers in Scotland."
UK education secretary Gavin Williamson added: "This is a landmark step in delivering on our promise to level up a truly global Britain, strengthening our ties across the world and providing students with the skills they need to thrive.
"The programme's focus on social mobility and value for money will open up more opportunities for international education and travel to all of our students, especially for those from disadvantaged backgrounds who were less likely to benefit from the previous EU scheme."
If you haven't already, please consider supporting our trusted, fact-checked journalism by taking out a digital subscription.