SNP turmoil: Labour's Ian Murray says SNP 'defied gravity' for long time, but could now 'collapse quite quickly' amid police investigation
One of Labour's key figures, Ian Murray, has claimed the SNP "defied gravity" for a long time, but now could "collapse quite quickly".
Speaking following the arrest of Nicola Sturgeon's husband Peter Murrell on Wednesday, the shadow Scotland secretary stressed politics was "built on trust", and said with Humza Yousaf now in charge Scotland's governing party was no longer "teflon".
Speaking exclusively to The Scotsman, Mr Murray also claimed Labour leader Sir Keir Starmer could be one of the best prime ministers Britain has ever had, but called for those wanting more policy announcements to be "patient".
Mr Murrell, who married Ms Sturgeon in 2010, was arrested on Wednesday morning in connection with a long-running Police Scotland investigation into the spending of about £600,000 that was earmarked for Scottish independence campaigning.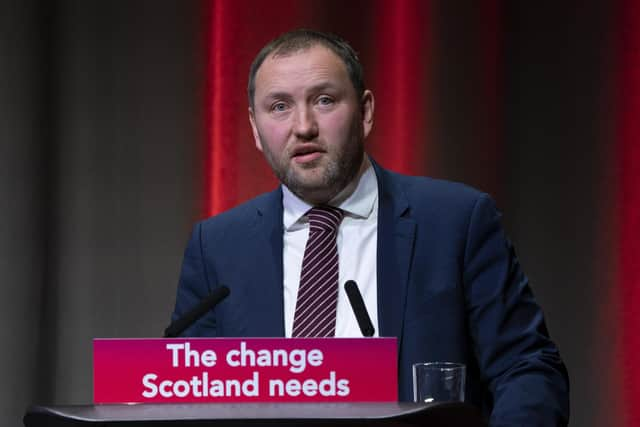 Asked how damaging this was for the SNP, Mr Murray suggested the party could collapse "quickly" due to being held together on the single issue of independence.
He said: "Politics is built on trust and that's the main thing. The SNP have managed to defy gravity back to 2007 by bestowing on the majority of the public they were a competent government that could be trusted.
"Despite the fact many opposition parties knew that to be true, the formidable nature of [former first minister Alex] Salmond and Sturgeon meant the stuff that would stick to other parties wouldn't stick to them.
"These instances that have happened over the past five months or so have allowed the public to scratch under the surface a bit and they've not liked what they've found.
"If you are not built on any values and are just a single-issue party seeking to govern, you can collapse quite quickly because there's no foundation. Even the most ardent nationalist would say independence is dead now, at least for the time being."
With Labour already calling for a snap election, the senior shadow Cabinet minister claimed the argument was only growing. He labelled the SNP "hypocritical" for complaining when Tory members elected a prime minister – firstly Liz Truss and then Rishi Sunak – without opening the vote to the wider public.
Mr Murray said: "We've called for it at every opportunity that we've had the chance to do so. [Scottish Labour leader] Anas [Sarwar] called for it at Humza's first FMQs, I called for it at Scotland Questions before recess.
"The point we are making is if a prime minister or first minister changes during the course of a term, they inherit the predecessor legacy, but they don't inherit the mandate.
"It's completely hypocritical that they said the prime ministers had no mandate as they were appointed by Tory members, but now a first minister is foisted on us by SNP members. If they want to practise what they've been preaching, we need a UK and Scottish election on that basis."
Mr Murray also suggested the new First Minister would struggle to lead amid inquiries into the party's finances.
"It makes it almost impossible to lead when these kinds of questions are asked," Mr Murray said. "In the UK at the moment, we have the police looking at pictures from Downing Street to fine the Prime Minister and the Chancellor, and the former first minister resigning and escaping from her own humble abode before the police arrived to essentially arrest the chief executive and her husband.
"You've got to really start to worry about what's going on and the public have a right to have a say on that."
Mr Murray predicted the SNP would soon tumble, arguing losing the "teflon" Ms Sturgeon was a seismic change in Scottish politics. He said: "They defied gravity, but they have defied it for so long it will be so much harder when they crash.
"The arguments Anas wants to make haven't changed, but the environment has. If the question is 'does having Humza Yousaf make making these arguments easier', the answer is yes, because he's failed at every job he's had. He's called useless Humza for a reason, and that's a name his own party came up with, not us."
Speaking shortly after Sir Keir suggested he forced former Scottish leader Richard Leonard to resign, the Edinburgh South MP claimed it was inarguably a move that had helped Scottish Labour.
Mr Murray said: "Keir came in from a worse election defeat since 1935 promising change for the UK labour party after the previous regime had failed.
"Electorally in Scotland and in the polls, it wasn't good enough. We were losing council by-elections, so I think change was required at UK level, but I think change was also required in Scotland.
"I'd like to hear the arguments that Richard Leonard should still be leader of the Scottish Labour party, because I'm not sure there are any. There can be tittle-tattle, but the proof is in the pudding and it has been a fundamentally transformative change for the labour party."
Labour's only Scottish MP also repeatedly praised the Westminster Labour leadership, saying the two groups now worked "hand in glove".
Mr Murray was also defiant when challenged on polling that shows, while Labour are consistently ahead, Sir Keir still isn't trusted on the economy as much as Mr Sunak.
He argued: "I've got a simplistic view on Rishi Sunak being seen as more prime ministerial as he's already in the job. When you ask someone who is more prime ministerial, it's easier to be trusted by someone already in the job. I think Keir will be one of the best prime ministers we've ever had due to the credibility and integrity he'll bring to the job.
"It's up to us to win the next election as much as it is the SNP and Tories to lose it."
Mr Murray urged those wanting to hear more policy from Labour to be "patient", pointing to the long time before the next election, expected in two years.
He said: "Part of the problem is we are in opposition, but people are demanding a shadow budget or a shadow manifesto every time a Government policy comes out. We are 18 months, maybe two years from an election, and that detailed stuff isn't going to come because it will be out of date by the time it goes to the papers, let alone the next election.
"I understand people's thirst for wanting more and my message would be just be patient."
Comments
 0 comments
Want to join the conversation? Please or to comment on this article.