SNP turmoil: Greens co-leader Patrick Harvie says Kate Forbes election victory would have ended Bute House Agreement
Kate Forbes becoming First Minister would have seen the Scottish Greens exit the Bute House Agreement, one of the party's co-leaders has said.
Patrick Harvie said the wider reaction to the former finance secretary's beliefs around gay marriage demonstrated Scotland was heading in the right direction in terms of its acceptance of LGBT rights.
The Glasgow MSP also admitted the delay to the flagship deposit return scheme, spearheaded by fellow co-leader Lorna Slater, was "deeply frustrating", but was fundamentally due to the failure of the UK Government to confirm a key exclusion to the Internal Market Act, a concern dismissed by Westminster.
Speaking exclusively to The Scotsman, Mr Harvie said a Forbes victory in the SNP leadership contest would have seen the Bute House Agreement collapse.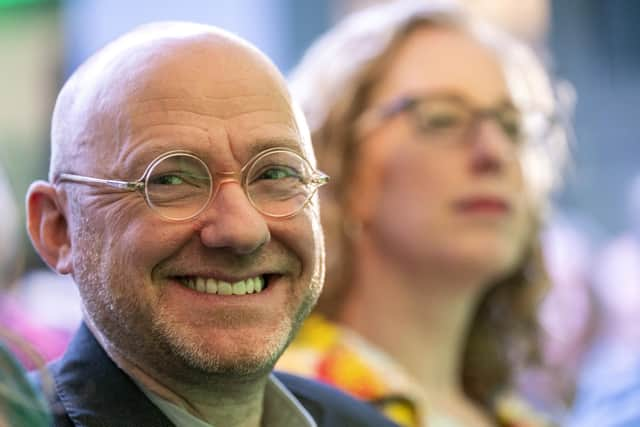 Much of the contest was punctuated by questions about the coalition deal between the SNP and the Greens, with both Ms Forbes and fellow leadership contender Ash Regan making it clear they offered a likely departure to the deal agreed by Nicola Sturgeon.
Ms Forbes repeatedly said it would have been up to the Greens to decide whether to back her agenda, which included ditching key policies such as the planned and controversial highly protected marine areas (HPMAs) and avoiding a court challenge around the section 35 block of the Gender Recognition Reform Bill.
Mr Harvie said, however, that he and his co-leader would have called time on the Bute House Agreement has the former finance secretary won.
He said: "It's pretty clear that if you'd had any candidate who'd spent the campaign trashing the policy commitments that were in the Bute House Agreement or saying 'I want to work with the Greens, but they'll have to do what I tell them and they'll have to accept my agenda' … that Lorna and I would have had to bring a recommendation to the party council that that wasn't a viable position for us to remain in the agreement.
"I suspect that that view would have been pretty unanimous within the council as well. I'm really pleased that's not the position we're in."
Mr Harvie, who is openly bisexual, did admit the debate around Ms Forbes's views on equal marriage – stating she would not have voted for the legislation had she been in Holyrood at the time – had had a personal impact.
During his early career as an MSP, the Green leader had tabled a member's Bill on civil partnership as part of a desire to "provoke debate" following the repeal of section 28 – the ban on the 'promotion of homosexuality' by councils – causing controversy at the time.
Despite the personal impact and the difficulty hearing those views being aired, Mr Harvie said it was a sign things were "moving in the right direction" that society viewed opposition to LGBT rights as a "line that isn't OK to cross".
He said: "I've argued for years that LGBT equality should get to the same point as something like the unacceptability of racism or sectarianism or other forms of prejudice in our politics where we don't think it is just an acceptable part of the political spectrum, special conscience issues.
"While that voice that said there's a part of Scotland that's not comfortable with LGBT people's equality or in some cases even our existence was being heard, the reaction against it, not just within my party, not just within LGBT community organisations, not just publicly, but even within the SNP … the reaction against that prejudice that said you just can't have someone in the highest office who isn't willing to say I'd have voted for a marginalised minority's human rights, that was new."
Mr Harvie added: "You wouldn't have had that reaction against those views back in the early days of devolution with section 28, you wouldn't have had that even more recently with the equal marriage debates where outright opposition to my community's human rights was just seen as a legitimate thing to express.
"The reaction against that was really interesting and I think maybe it indicates that things are continuing to move in the right direction of saying that prejudice and support for homophobic or transphobic laws is a line that isn't OK to cross."
The continuation of the coalition deal has also led to high profile backbench opponents to Humza Yousaf's leadership criticise the Government of being beholden to the Greens, with the "Green tail is wagging the SNP dog" now a common refrain among opposition politicians.
This includes the aforementioned gender reforms and HPMAs policies, and the ongoing chaos surrounding the planned deposit return scheme – all either red lines in the Bute House Agreement or policies led by Green ministers.
Laughing when asked whether this allegation was actually a positive for his party, Mr Harvie said it was "always good if people recognise we are making an impact and we are making a difference".
He said: "I think that what's funny is that the same people who use phrases like 'tail wagging the dog' are also the people who say that we're just in there to do as we're told and don't change anything.
"They really can't have it both ways. Most political parties recognise the need for transformational change in the face of the challenges that we're living through, whether that's on climate and nature, whether it's on social inequality. When they see it, they say 'no, no, not like that, that's not what we meant'.
"I think it is in some ways reassuring when the Greens get pushback for bringing forward the transformational policies that we believe are necessary because it means the people with the vested interest in the status quo don't like it.
"If we were proposing tinkering around the edges then maybe some of those vested interests would be a little bit less vociferous in their objections, but it wouldn't be worth very much and it's not what I got involved in politics to do."
Comments
 0 comments
Want to join the conversation? Please or to comment on this article.