Stephen Flynn has hinted the SNP would consider rolling back on demanding a second independence referendum in exchange for supporting a Labour government, as he said his party would want more powers to back Sir Keir Starmer's party.
In a subtle softening of the stance set out by other key SNP figures, Mr Flynn called for "meat on the bones" of devolution as he suggested support for Labour in the wake of the next general election may not be wholly contingent on being granted a section 30 order for indyref2.
Speaking exclusively to The Scotsman, the SNP Westminster leader suggested a minority government would be a chance to "empower" Scotland's Parliament.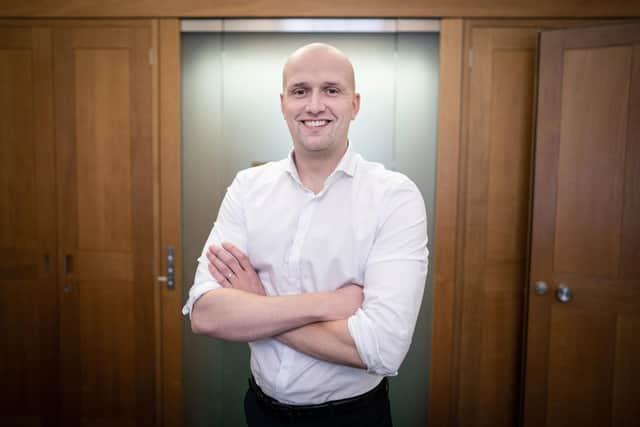 Asked if he would be willing to work with Labour without the guarantee of a second referendum, the Aberdeen South MP refused to rule it out, instead arguing it was an "extremely high priority".
Labour has consistently ruled out a coalition with the SNP in a hung parliament, with Sir Keir citing a "fundamental disagreement" with a party seeking to separate the UK.
Local elections in England earlier this month saw Labour become the biggest party, with the Tories losing 48 councils and more than 1,000 councillors, exceeding their worst predictions. Mr Flynn claimed this showed Britain was on course for a hung parliament, a situation he said he believed could empower his party.
"Everyone's of the view that Keir's going to be the next prime minister, and he's likely to be the prime minister of a minority government," he said.
"And in that case he's going to require support to get on with his agenda and that affords us the opportunity to say 'well, you know what, your agenda should also involve empowering Scotland's Parliament'.
"The devolution of energy, devolution of immigration policy, the ability to access the single market, and, of course, the big one for us, which is to ensure the powers over Scotland's future rest in Holyrood, not in Westminster.
"We can not only help the UK Government to see some sense when it comes to the biggest issues, we can also drive home our own agenda."
Asked if he'd be willing to work with Labour without the guarantee of a second referendum, Mr Flynn argued it "fair and reasonable" to seek further powers.
He said: "I think the ability for Holyrood to hold a referendum would be extremely high up my priority list, if not right up the top, because it is the way that Scotland can best align itself with the European Union and move forward with the benefits that come with that and solve many of the social problems and economic challenges that we face."
"Whilst we are still in the United Kingdom, I think it's fair and reasonable to seek to ensure that Scotland's Parliament garners additional powers and resources. Devolution doesn't go far enough, and we'd like some meat on those bones."
His comments are softer than some of his Westminster colleagues. SNP Cabinet Office spokesperson Kirsty Blackman has vowed her party would do "everything we can to oppose" Labour unless they allowed the Scottish Government the power for a second vote.
Asked if the SNP would still support Labour policy without this power, Mr Flynn added "locking the Tories out" was the "big thing to do". He continued: "I guess the main question is how desperate is Keir Starmer to become prime minister?
"Given some of his Tory tendencies in recent times by mimicking their policies, he's moving away from his own initial agenda from when he became leader, [it] has shown he's desperate to become prime minister. If he's desperate to become prime minister, he'll surely want to accept the democratic views of the people of Scotland. He needs to listen to us."
Asked about the SNP's electoral prospects ahead of an election next year, Mr Flynn insisted he was "very positive". He said: "I'm very, very optimistic about where we're going to be, come the next general election, and that is borne over two things.
"One, the fact that despite the challenges that we've faced so far, the party is still comfortably ahead in the polls, and our numbers are rock solid.
"Secondly, we now know from the local elections in England there is a real likelihood of a hung parliament, and I think for Scotland, in particular, that is going to elicit the chance for some real control finally over Westminster politics.
"If you are of a nationalist persuasion, if you want to see the Scottish Parliament emboldened, then vote for a group of folk, a strong team of SNP MPs, who will make sure that Scotland's at the middle of discussions."
Since becoming Westminster leader, Mr Flynn's party has repeatedly attacked Labour, most notably at Prime Minister's Questions.
He explained: "What we've done is to highlight when it comes to the big policy areas like Brexit, migration or single market access, and elements of social security, of the devolution of employment rights, and energy policy, the Labour party and the Tory party policies are very similar and that it not a benefit to the people in Scotland."
Sir Keir has repeatedly ruled out a coalition with the SNP and stressed his opposition to a second independence vote, something Mr Flynn suggested could change.
Mr Flynn said: "I think we would be afforded the opportunity to make sure that Labour are delivering for Scotland and empowering us to have an independence referendum. That's undoubtedly more likely with them than it is with the Conservatives.
"We know from experience about Keir Starmer's ability to change his mind quite readily, but when push comes to shove, I think we can change it again."
Turning to his own party, the SNP Westminster leader expressed his relief after the party finally secured new auditors, AMS Accountants Group, more than six months after the previous firm to hold the post quit.
The Westminster group is at risk of losing £1.2 million of public funding if it does not submit its audited accounts by May 31, but Mr Flynn suggested he was "confident" they would meet the deadline.
He said: "I'm obviously confident that we will be able to hit the deadlines in place with the House of Commons, and that will hopefully put that particular episode to bed. It was a very difficult period, not because of anything other than the fact that it directly related to members of staff and it was very difficult to have all those conversations in the public debate. I'm glad we're not in that space now, and it was more relief for them."
He also drew a line under the spat with his predecessor Ian Blackford. The pair was briefly at loggerheads after the former Westminster leader accused Mr Flynn of giving him false information about the party finding new auditors.
Mr Flynn explained: "In life in general, two things can be true. We can all have misunderstandings. There is certainly no animosity there whatsoever and we've got our good relationship back."
There were also harsh words for the Scotland secretary, after Mr Jack announced on Wednesday he wouldd be standing down at the next election, amid being offered a peerage by former prime minister Boris Johnson.
Asked to say something nice about Mr Jack, Mr Flynn responded: "He's a very easy opponent. Good luck to Alister – if there's one man who belongs in the outdated House of Lords, it's Baron Jack."