SNP rivals in row over Facebook spending
A row between rival SNP hopefuls has erupted over online campaign spending in the race to become the party's Edinburgh Central candidate at next year's Scottish Parliament election.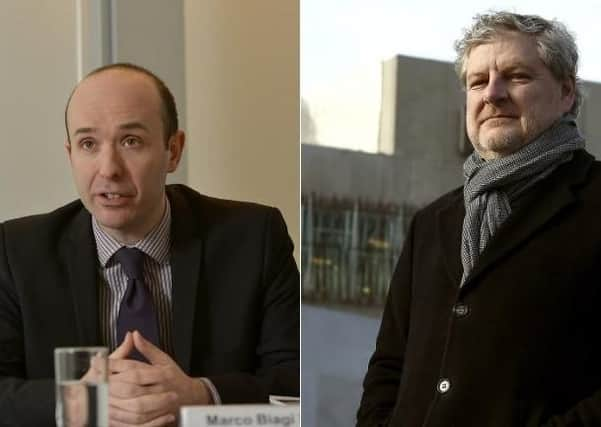 Former local government minister Marco Biagi has raised concerns after it emerged that the ex-SNP Westminster leader, Angus Robertson, had spent up to £1,000 on Facebook adverts since declaring.
Mr Biagi has now written to SNP bosses warning of the danger of "dark money" creeping into selection process and comparing it to the tactics of the Prime Minister's chief adviser.
Mr Robertson, who launched an online meeting hub, points to heavily restricted rules for SNP candidate campaigning this year which mean social media are one of the few ways to get the message out. He insists nothing inappropriate has taken place.
But Mr Biagi wants to see a £100 cap placed on social media advertising. He has already spent this amount.
"If the party's national executive committee wants to restrict Dominic Cummings tactics or dark money donations they could do it any time and they should," he states.
"All the work that has been done to ensure gender equality and disabled representation is wasted if candidate selections are left tilted towards those with the richest friends.
"SNP candidates should be raising money to unseat our opponents, not each other. Every donation spent on an internal selection is one less available for campaigning on our shared objective of independence."
In constituencies such as Edinburgh Central, where candidates have spent above such a cap already, Mr Biagi says there should not be any retrospective punishment, but instead the cap there could be the largest sum already spent by any one candidate.
But Mr Robertson points to a Covid crackdown on candidate selection rules imposed by party chiefs which has barred face-to-face canvassing and means contact details for local party members – there are 1,400 in Edinburgh in Edinburgh – are not shared.
Mr Robertson launched an online hub at the weekend which invites members to make an appointment by phone or Zoom call to overcome these restrictions.
"SNP members should be able to speak with their potential candidates and this online system makes it easy to organise," he said. "SNP selection rules have been tightened to only allow the use of websites and social media, so it is important to be accessible to members and communicate effectively across all platforms."
He added: "Should I be selected and elected as the SNP MSP for Edinburgh I intend to continue using the online system for constituent surgeries."
The current Edinburgh South West MP, Joanna Cherry, has already pulled out of the running to contest the seat, claiming that changes to party rules made it financially impossible for her to stand.
Voting is scheduled to be completed by SNP members in all seats by 18 November at the latest.
Comments
 0 comments
Want to join the conversation? Please or to comment on this article.