Mr Russell, who is the interim chief executive following the resignation of Peter Murrell on Saturday, said things had gone "spectacularly wrong in recent weeks", and even admitted he was unaware of the party's plummeting membership figures which sparked the chaos.
Both Humza Yousaf and Kate Forbes have expressed their faith in the ballot despite the dramatic events of the weekend, while a spokesman for the third candidate Ash Regan, who had threatened legal action to pause voting, said discussions were underway with Mr Russell and they were "confident we will reach an amicable and reasonable outcome".
The departure of Mr Murrell, who is married to outgoing first minister Nicola Sturgeon, on Saturday came shortly after that of media chief Murray Foote, who quit after issuing "agreed party responses" denying a drop in membership. That story was confirmed by the figures last week which showed the party had lost around 30,000 members. Mr Foote who said he had been acting in "good faith" said there was a "serious impediment" to his role.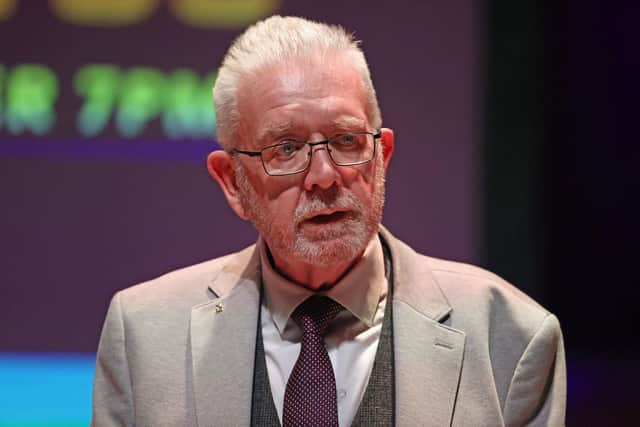 Mr Murrell, who had been the party's chief executive for more than 20 years, said he took responsibility for the statement and quit on Saturday as he faced the threat of a vote of no confidence from the party's NEC.
Mr Russell yesterday admitted the party was in chaos and said "there has not been a contested leadership of the SNP for 19 years and it shows".
He said: "I think it's fair to say there is a tremendous mess and we have to clear it up.
"That's the task I'm trying to take on in the short term, and the most important thing in the short term is about Scotland, not the SNP, is that we have a fair electoral process, that gives a clear accepted outcome.
"That's why I was so pleased today to see Kate Forbes has confirmed her belief in the integrity of the process, that is the same position Humza Yousaf has taken, and I'm in dialogue with Ash Regan I hope to get to the same position.
"She has questions, and I'm very happy to do that, we've got to do that, and have this concluded in eight days, then we have to look at the party and the new leader has to look at the party, it's not a job for me, and say let's rebuild this, let's rebuild the trust of Scotland, because it is about the trust of Scotland and this has not been an edifying process.
"What has happened has not been good for the party has not been good for Scotland and we have to change it. Things have gone wrong, spectacularly wrong".
Mr Russell was also asked about party membership, which has dropped from 104,000 two years ago to 72,186 members. Both Ms Regan and Ms Forbes had demanded to know how many members were eligible to vote in the contest to replace Nicola Sturgeon.
He said: "I have no idea why that took place, I have no idea at all, I have the greatest respect for Peter, I've worked closely with and known him for a long time.
"I'm not going to speculate about what happened there but we do need an answer on that.
"The reason I didn't know is that they are reported every year, and we have not had the report".
Asked about an arrogance or entitlement in the party, the SNP president admitted he could "understand" the accusation.
He added: "I think I would also point to the fact that some of these people have been under the most tremendous pressure, and in addition to that pressure, they have been under the most tremendous scrutiny."Some of the social media stuff has been absolutely reprehensible. You know, members of our staff have been appallingly abused. Now I think that's part of having a contest in a social media age, which we've not had before. But yes, there are lessons that we need to learn."
It came as leadership candidate Mr Yousaf described the party's row over membership numbers is an "own goal", saying it was a "'cock up rather than conspiracy".
Speaking to journalists after visiting Glasgow Gurdwara where he met members of the city's Sikh community., he was asked about the resignation of Mr Murrell and media chief Mr Foote.
He said: "The party scored a bit of an own goal here, we should have released those membership numbers earlier on at the beginning of this contest.
"But I want to reassure the members, although the last few days have absolutely been challenging, I wouldn't suggest otherwise, there's still a strong foundation to build upon.
"Over 70,000 members makes us the biggest, largest political party in Scotland by some distance."
Asked if someone in the party should apologise for the turmoil of the previous days, he said Mr Murrell had done the "honourable thing" in resigning.
"I want to pay tribute to Peter for the exceptional service he's given," he said.
"It's more cock up than conspiracy if I'm honest. I know Peter. I've known him for many years and he is never somebody that I know that has ever intentionally misled or lied."
Mr Yousaf said it would be important to appoint a new chief executive who could bridge the "disconnect" felt between branches and headquarters.
Discussing the party's finances, he said: "I've not delved into this – I don't know the finances of the party because I don't hold an office-bearer position.
"But clearly If I'm elected leader of the SNP it's one of the first things I'd want to get up to speed on."
Sunday evening saw Ms Regan's camp appear to suggest talks with Mr Russell had assured them over their concerns.
Kirk Torrance, Ms Regan's Advisor said: "We are still in discussions with Mike Russell but are confident we will reach an amicable and reasonable outcome."
It came as Scottish Labour deputy leader Jackie Baillie claimed the "wheels were coming off" the SNP.
She said: "The SNP is a party in turmoil - and they have run out of road.
"Kate Forbes has thrown light on the SNP's atrocious record in government and questioned the cabal that has been running the SNP for years.
"Mike Russell trying to blame social media for the repeated failings of his party machine during this leadership election is simply laughable.
"The truth is that this election is in chaos – with allegations and resignations appearing on a daily basis.
"There is no way the president of the SNP did not know about the exodus of members from the party.
"Mr Russell should 'grasp the thistle' by facing up to the chaos in his party.
"If this is how the SNP run their own party, just imagine the chaos in government – Scotland deserves better."
Scottish Conservative chairman Craig Hoy labelled Mr Russell "the most slapdash, disinterested and hands-off party president ever".He said: "He's asking us to believe that he had no idea what the SNP membership figures were until they were published a few days ago, nor who was responsible for ordering the party's former chief spin doctor to rubbish a perfectly accurate newspaper report on that figure.
"This is symptomatic of the secrecy and lack of accountability which infects the top of the SNP.
"Their squalid leadership race has exposed a civil war within the SNP. It's a measure of just how bad things have become when a senior party loyalist like Mike Russell describes it as 'a tremendous mess' and admits things have gone 'spectacularly wrong'.
"The tragedy is that this affects the whole of Scotland, rather than merely the SNP. While they are hopelessly divided and fighting like Nats in a sack, they're incapable of focusing on the real priorities of the Scottish people."