Deputy First Minister John Swinney is to tell the SNP's campaign conference, that just as jotters were handed out to pupils at the beginning of a school year, modern pupils needed to receive a tablet or laptop in the same way.
Many pupils struggled to access online learning while schools were shut during lockdown. A data exercise undertaken by ministers last year identified 77,000 Scots youngsters who did not have sufficient digital access.
Meanwhile, emails obtained through the Freedom of Information Act this year showed concerned families went direct to ministers asking for help getting laptops and tablets, while concerns about other issues, such as youngsters being frozen out of software platforms like Microsoft Teams were also raised with ministers. The Scottish Government has funded the distribution of more than 63,000 devices such as ipads and Chromebooks through £25 million of funding.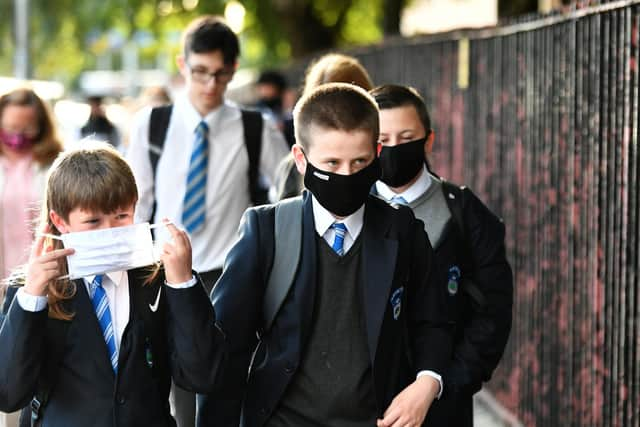 Under the new programme, every school pupil in Scotland will be provided with an age appropriate laptop, Chromebook or tablet for use in school and at home – with each coming with a free internet connection. The £350 million scheme will also provide technical support and training for teachers.
Within the scheme, councils will be funded to improve schools' electronic infrastructure, such as networking within schools and internet bandwidth.
Mr Swinney will tell the party in his speech to the SNP campaign conference today: "We put tens of thousands of new laptops and Chromebooks in the hands of children learning at home during lockdown. But I want to do more.
"Covid has reinforced the need to break down the barriers to learning. A child cannot do their homework on mum or dad's phone. And they cannot study online if they can't connect to the internet. These tools are no longer luxuries. They are the basic building blocks of a good education.
"It is time now to recognise that. And, because education is about levelling up, it must be done for everyone. Rich and poor alike. Just as in my day, the teacher handed out a jotter to all, so in this internet age, we will hand each child the device they need to learn and prosper."
He added: "If we are re-elected in May, the SNP will roll out a new programme to deliver into the hands of every school child in Scotland a laptop, Chromebook or tablet to use in school and at home. We will end the digital divide between those who have access to the rich educational resources of the internet and open that electronic world to every child in Scotland."
Scottish Conservative education spokesman Jamie Greene said: "The SNP left too many pupils without access to vital devices for learning at home over the last year. They ignored our calls for more support for online learning for months but it seems that now an election campaign is under way, they are willing to admit they didn't do enough."
The SNP government has come under fire for its education performance. A report from Audit Scotland published showed the poverty-related attainment gap remains wide and existing inequalities have been exacerbated by the Covid-19 pandemic.
A message from the Editor:
Thank you for reading this article. We're more reliant on your support than ever as the shift in consumer habits brought about by Coronavirus impacts our advertisers.
If you haven't already, please consider supporting our trusted, fact-checked journalism by taking out a digital subscription.