A source in Humza Yousaf's new administration said the statue would be a "fitting tribute from a grateful nation" for Ms Sturgeon's service, adding that he was confident the use of taxpayers' money for the project would be enthusiastically approved by the parliament "with the support of the Greens".
Costings are still being drawn up but early estimates show the bill will run to tens of thousands of pounds in a move which is likely to provoke fury among opposition politicians.
Efforts are under way to keep costs to a minimum, however, by using surplus steel purchased for the Ferguson Marine ferries, in what may be a fitting if unwelcome nod to Ms Sturgeon's legacy. An early suggestion to also designate the statue a deposit return point has been ruled out on grounds of complexity.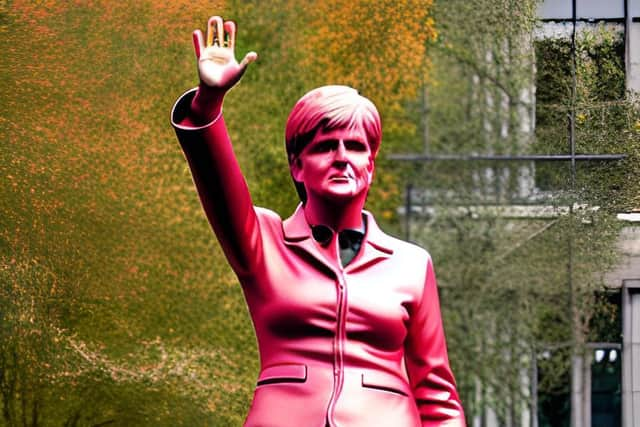 The source said: "This is an idea which has really gathered pace in recent days and now has the full force of the Cabinet behind it.
"Crucially it appears to be an infrastructure project which the government should, with a fair wind, be able to deliver. MSPs will walk past the statue every day and be inspired, while grateful citizens can come to pay tribute to the beloved former First Minister."
He added: "Building the ferries has of course been challenging and an error at the procurement stage actually meant we ended up with a load of surplus steel. Repurposing it for this truly exciting project will both help keep costs to a minimum and prove the SNP is committed to value for money. We are confident the statue will be delivered on time and on budget, and in all likelihood before the Glen Sannox sets sail."
It is understood Emanuel Santos, the artist behind a famous bust of football legend Ronaldo at Madeira Airport, turned down the commission.
A competition will now be held to select a sculptor and design for the tribute, with a delivery date of April 1 2024.
Among those to have shown early interest is the artist Flora Pilo. "Much will be written about Nicola Sturgeon's legacy," she said. "But capturing her essence by using a lump of surplus metal for ferries which are tens of millions over-budget, years late and may never set sail, I think is a really interesting concept."
Last night opposition politicians were rounding on the plans, while Scottish Secretary Alister Jack is believed to be examining the Scotland Act to find a way in which it is somehow outside the legislative competency of the Scottish parliament.
A spokesman for Tory leader Douglas Ross said: "We don't need to be reminded of Nicola Sturgeon every day we go to work. Humza Yousaf's administration will do that for us. This is an outrageous use of taxpayers money, although admittedly cheaper than failing to build a ferry or over-engineering a bottle return scheme."