In a new paper published ahead of his party's special conference next month, the Glasgow South MP warned that pursuing the strategy advocated for by Nicola Sturgeon "could set our movement back significantly".
One of the SNP's most prominent backbenchers, Mr McDonald also warned there were "no grounds to believe" a UK Government would accept the result.
He said: "The UK Government will not open independence negotiations following a de-facto referendum.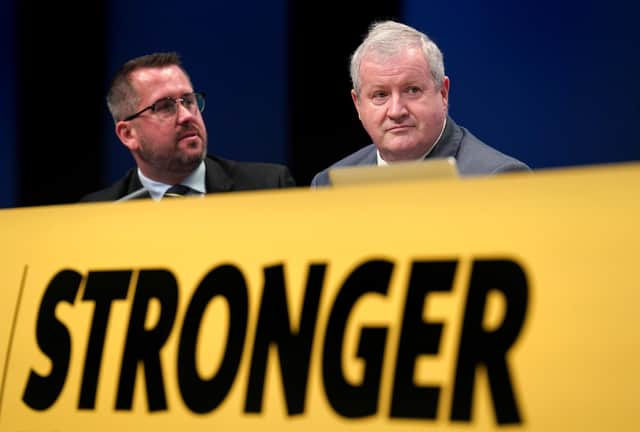 "Yet, even as the UK Government does nothing, all manner of unreasonable expectations and demands would come to fall on the leadership of the independence movement and the Scottish Government, such as calls for a unilateral declaration of independence.
"This would place the country's elected leadership in an impossible position and diminish our standing with the electorate and international partners."
The First Minister announced her party would treat the next general election as a de-facto referendum after the Supreme Court ruled the Scottish Parliament could not legislate for one without permission from the UK government.
Mr McDonald insisted his party should "stick to calls for a legitimate referendum", saying this is "what the public would expect" and also "what the international community would expect".
SNP veteran and former Scottish Government cabinet secretary Alex Neil, meanwhile, declared a de-facto referendum "is likely to be an own goal" for independence campaigners.
Writing in the A Scotland That Can Vote Yes Paper, the former MSP argued: "The chances of obtaining 50 per cent of the vote in a UK general election are slim indeed."
Their intervention comes ahead of a special SNP conference next month, at which the party will formalise its approach.
Scottish Conservative constitution spokesman Donald Cameron said: "Even one of Nicola Sturgeon's own MPs recognises that her push to turn the next general election into a de-facto referendum on independence is completely unworkable in reality."
Mr Cameron said this showed "this strategy from the First Minister is the height of arrogance and totally irresponsible".
It comes as Mr McDonald, formerly his party's defence spokesman, revealed fears he may be the victim of a "disinformation attack" as he claimed his personal email account has been hacked by Russia.
He suggested he was targeted in a phishing attack on January 13, in the form of a password-protected attachment sent in an actual email account for a member of his staff, purporting to be about Ukraine.
After clicking on the link and entering his log-in details, he was redirected to a blank page, the MP said. When he asked the member of staff about it, the employee responded: "I didn't send any email."
Mr McDonald told the BBC: "If it is indeed a malicious state-backed group, then, in line with what I've seen elsewhere, I expect them to dump some of the information online.
"I can expect them to manipulate and fake some of that content and I want to get out ahead of that to ensure any disinformation attack against me is discredited before it's even published. It can catch people, even those who are alive to these threats."