SNP MP John Nicolson accused of 'racial slur' over 'tandoori' make-up comment
A senior SNP MP has been accused of an "ignorant racial slur" after making a comment about "tandoori" make-up on Twitter.
John Nicolson, his party's culture spokesman, posted the remark to social media before appearing on BBC Scotland's Debate Night programme.
In a video showing him having his make-up applied before entering the TV studio, Mr Nicolson said: "If politicians put on make-up themselves, they tend to go, I'm right in saying, they go a bit overly brown – so they tandoori themselves. But that's why you need a professional make-up person."
The tweet has since been deleted.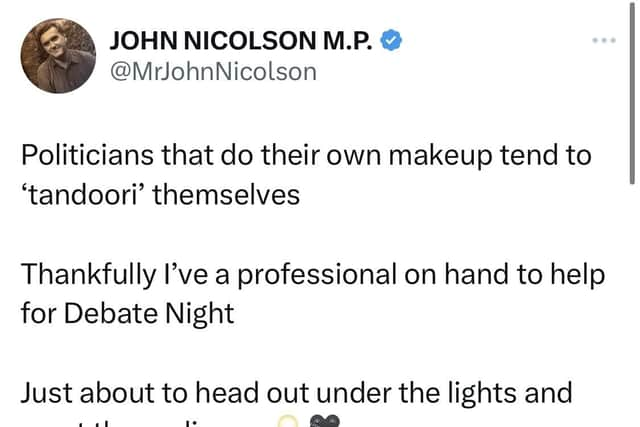 She said: "I can't believe John Nicolson thought this ignorant racial slur was remotely appropriate. To use the term 'tandoori' in relation to brown skin colour is grossly offensive. The subtext is clear: brown people eat curry.
"It's an offensive stereotype that I'd hoped we'd left behind in the 1970s, yet here we have a supposedly 'progressive' politician using it in 2023. John Nicolson needs to apologise for his lazy and crude pigeonholing and remove this crass tweet."
She has now written to Mr Nicolson, the MP for Ochil and South Perthshire, urging him to apologise.
In the letter, Ms Gosal wrote: "Your comments comparing brown skin to 'tandoori' show a complete lack of respect for the BAME [black, Asian and minority ethnic] community and disregard for the racism that our community faces every single day.
"As politicians, we must set an example to the public. Therefore, I urge you to delete the tweet and apologise to the community.
"Racism has no place in our society, and we all have a part to play in tackling it. The wealth of diversity across our country should be celebrated. I would be happy to discuss this important issue further."
The SNP has been approached for comment.
Comments
 0 comments
Want to join the conversation? Please or to comment on this article.