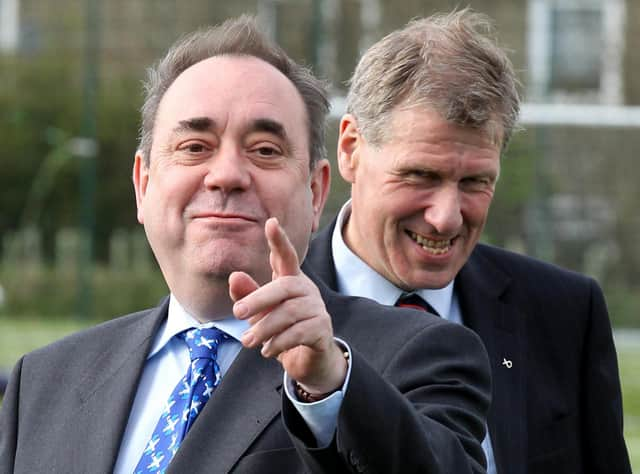 SNP MP Kenny MacAskil has claimed high-ranking party figures have conspired against Alex Salmond.
Kenny MacAskill has suggested members of his own party shared dozens of messages about the former first minister in a social media group chat, labelling themselves the "Vietnam" group.
The East Lothian MP claimed text messages from before last year's criminal trial of Mr Salmond, where he was cleared of 13 charges including sexual assault, show the group discussed an alleged victim being reluctant to give evidence and how to convince her.
Mr MacAskill said: "There has been long-standing talk in SNP circles about WhatsApp and text messages and I've been in correspondence with the Crown [Office] about it.
"There's a WhatsApp group that was called the 'Vietnam' group that included SNP staffers and even members of government.
"There is one text message between two senior members of staff seeking to put pressure on one of the alleged victims who was expressing reluctance about proceeding and they discussed ways of getting her 'back in the game'.
"There's a lot to come out and I think it's important for everyone that we should have clarity.
"This is nothing to do with the witnesses and the alleged victims, it is everything to do with internal SNP machinations."
His comments come amid a Holyrood committee inquiry into the Scottish Government's handling of complaints made against Mr Salmond and allegations of conspiracy.
The SNP's former justice secretary claimed the messages were an open secret among the party and backed calls for Scotland's Crown Office to release the text messages as written proof.
The "Vietnam" moniker is said to be related to Operation Diem, the name of the police investigation into Mr Salmond.
Mr MacAskill explained: "It apparently came about because the police operation against Alex Salmond was termed Diem, which is obviously the Latin for 'day'.
"Someone seems to have misunderstood Diem as a reference to a former president of Vietnam."
According to reports, those in the "Vietnam" group are close colleagues of First Minister Nicola Sturgeon, but she wasn't a member.
Ms Sturgeon is facing allegations that she broke the ministerial code by not revealing details of a meeting she had with Mr Salmond regarding charges of sexual assault against him.
Ms Sturgeon denies the accusations, but has put herself forward for an independent investigation.
If you haven't already, please consider supporting our trusted, fact-checked journalism by taking out a digital subscription.