SNP ministers say 'missing' ferries fiasco document has been found
A public inquiry into the ferries fiasco is now "urgent", opposition politicians have said, after SNP ministers announced a key "missing" document had been found.
Transport minister Jenny Gilruth said a newly-unearthed email confirmed Derek Mackay, the disgraced former SNP minister, had signed off on a botched contract for two new CalMac ferries.
But Audit Scotland, the public spending watchdog, said there remained "insufficient documentary evidence" to explain why this decision was taken.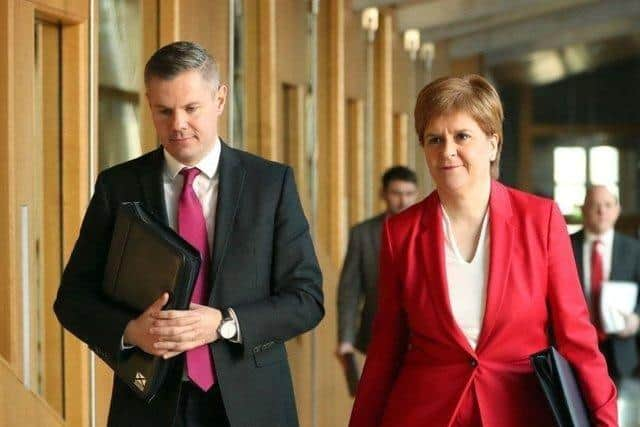 Ms Gilruth made the announcement at the start of a Holyrood debate on Wednesday on the ferries debacle, sparking fury from opposition MSPs, who had not been given sight of the document.
Tory MSP Stephen Kerr said it was "the height of disrespect" and "bordering on contempt of Parliament to treat us this way".
Annabelle Ewing, deputy presiding officer of the Scottish Parliament, later ticked off ministers for failing to provide a copy to MSPs in advance.
It comes amid an ongoing row over the construction of two ferries, the Glen Sannox and the as-yet-unnamed hull 802, which are at least £150 million over budget and five years' late.
A recent report from Audit Scotland found there was insufficient evidence to explain why the contract to build the vessels was given to the Ferguson shipyard in Port Glasgow, which has since been nationalised, without a full refund guarantee.
Documents show CMAL, the government ferries agency, raised concerns about this at the time, and remained concerned when the contract was signed.
Mr Mackay resigned in 2020 over messages sent to a 16-year-old boy.
First Minister Nicola Sturgeon was previously accused of seeking to blame him for giving the green light to the contract.
An email sent on October 9, 2015, written by Mr Mackay's private secretary and previously unreleased, reads: "The minister is content with the proposals and would like [them] to be moved on as quickly as possible please."
Brandishing this in the Holyrood chamber, Ms Gilruth insisted it "destroys the opposition's ridiculous conspiracy theories that another minister made this decision".
However, an email sent later on October 9 shows Deputy First Minister John Swinney was also involved in the sign-off.
An official wrote: "Just finished my call with DFM. He now understands the background and that Mr McKay [sic] has cleared the proposal. So the way is clear to award."
In a statement, Ms Gilruth said: "The email makes clear who approved the decision to award the contract to build vessels 801 and 802 to Ferguson's shipyard.
"It shows that the decision was rightly and properly taken by then transport minister Derek Mackay.
"We said we would continue to look for the document and that is exactly what we have done.
"It was found because a copy of an email chain had been retained by someone in Scottish Government finance because the-then finance secretary was briefed on the decision.
"By chance, a copy of that email chain – between two officials who left the government some years ago – includes the email from the transport minister's private office and was located in someone's electronic files."
Scottish Conservative transport spokesman Graham Simpson said: "We already know ministerial approval was given to award the contract to Ferguson Marine.
"We can gather that from the fact that the yard is – very slowly and very expensively – building the two vessels.
"The missing document we and the Scottish public are seeking is one that tells us why the SNP awarded it to Ferguson, given they were expressly advised not to.
"Simply revealing another email in support of the SNP's desperate 'Operation Blame Derek Mackay' is not going to cut it."
Scottish Labour transport spokesman Neil Bibby said the emails "raise more questions than they answer".
He said: "It is a disgrace that this document was not given to Audit Scotland originally. It begs the question what other information has been kept from them and the public.
"We still don't have a shred of information about why this decision was made, and now these documents show that it was cleared by John Swinney.
"There are serious questions now for the Deputy First Minister.
"We can see here that multiple ministers agreed to plough ahead with this dodgy deal, wasting millions of pounds of taxpayer cash on a contract that the experts warned them against – but we still don't know why.
"The SNP are in a quagmire of spin and cover up here.
"We still need real answers for the taxpayers, islanders and shipyard workers who have all been so badly let down."
Scottish Liberal Democrat economy spokesman Willie Rennie said: "It's difficult to believe that the SNP happened to find this apparently critical document just before the debate on ferries.
"The document makes matters worse as it still doesn't explain why the decision was made to ignore CMAL.
"The transport minister's claim that it was only Derek Mackay that signed off the contract has almost immediately been undermined by another document that revealed that it was the Deputy First Minister that signed off the contract.
"The need for a public inquiry is now urgent."
An Audit Scotland spokesman said: "The email confirms that ministers approved the award of the FMEL [Ferguson Marine Engineering Limited] contract.
"But there remains insufficient documentary evidence to explain why the decision was made to proceed with the contract, given the significant risks and concerns raised by CMAL."
Comments
 0 comments
Want to join the conversation? Please or to comment on this article.